BPLANT : MY PREFERRED CPO COUNTER FOR 2021
BPLANT ( Stock Code : 5254, BOUSTEAD
PLANTATIONS BERHAD, Main Market, PLANTATION)
WHY BPLANT AS MY PREFERRED CPO COUNTER FOR 2021?
1. LAST CLOSING 0.615 ,CONSIDERED ATTRACTIVE AND LOW
ENTRY PRICE ON EXPECTATION OF FURTHER RALLY IN CPO 2021
2. NOW TRADING AT 0.615; A 46.52% DISCOUNT TO NTA OF 1.15
3. DIVIDEND PAYING : DIVIDEND YIELD 0.81
4. 3QFY20 net profit stood at RM18.0m vs. a net loss of RM34.3m recorded in the previous corresponding quarter, underpinned by the rebound in crude palm oil prices. Revenue for the quarter rose 47.7% YoY to RM205.7m. An interim dividend of 0.5 sen, payable on 30th December 2020 was declared. (The Star)
5. I will strike early before the price moves up
CPO on track to post the highest year-end closing in 25 years
KUALA LUMPUR (Dec 25): Crude palm oil (CPO) prices have been on a steady climb since early May, and the edible oil is poised to post the highest year-end closing in 25 years, if not longer.
According to Bloomberg, generic three-month palm oil futures (expiring on Dec 31) are currently trading RM48 higher at RM3,854 a tonne, a 25-year high.
https://www.theedgemarkets.com/article/cpo-track-post-highest-yearend-closing-25-years
RELATED LINKS :
https://klse.i3investor.com/blogs/www.eaglevisioninvest.com/2020-12-26-story-h1538400322-GREAT_SUCESSFUL_INVESTMENTS_YEAR_2019_OGSE_BULL_RUN_THEME_2020_MEDICAL_.jsp
https://www.thehindubusinessline.com/markets/commodities/crude-palm-oil-tax-cut-to-push-up-imports-from-malaysia/article33419252.ece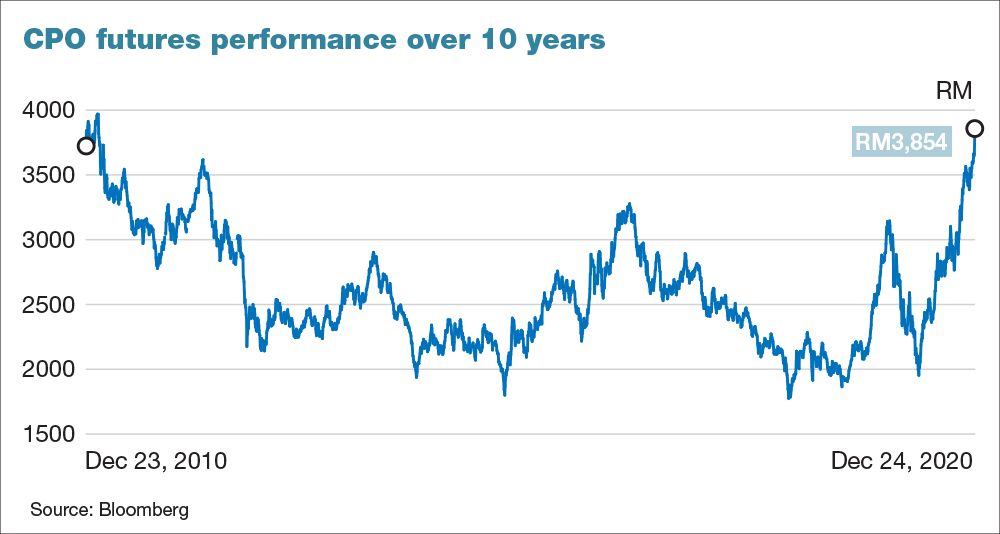 LET'S SEE HOW THE SHARE PRICE MOVEMENT IN THE NEAR FUTURE FORBEARING ANY GOOD CORPORATE NEWS.
Disclaimer : The above opinion is never intended to be a BUY CALL whatsoever. I am sharing my observations ONLY based on fundamental; past history; current trading pattern; charts etc. Please make your own informed decision before buying this share or whatever share for that matter.
BURSAMASTER