Future Tech

Author: Tan KW | Latest post: Wed, 25 May 2022, 9:54 PM

Future Tech
Author: Tan KW
| Publish date: Wed, 25 May 2022, 9:54 PM

---
System designed to meet current and future compute needs of researchers
HPE and Cerebras Systems have built a new AI supercomputer in Munich, Germany, pairing a HPE Superdome Flex with the AI accelerator technology from Cerebras for use by the scientific and engineering community.
The new system, created for the Leibniz Supercomputing Center (LRZ) in Munich, is being deployed to meet the current and expected future compute needs of researchers, including larger deep learning neural network models and the emergence of multi-modal problems that involve multiple data types such as images and speech, according to Laura Schulz, LRZ's head of Strategic Developments and Partnerships.
"We're seeing an increase in large data volumes coming at us that need more and more processing, and models that are taking months to train, we want to be able to speed that up," Schulz said.
"And then we're also seeing multi-modal problems, such as integration of natural language processing (NLP) and medical imaging or documents, so we have this complexity, we have this the need for faster, we have this need for bigger that's coming from our user side, from our facility side, and we need to make sure that we're constantly evaluating to have these different novel architectures, to have different usage models to be able to understand all that."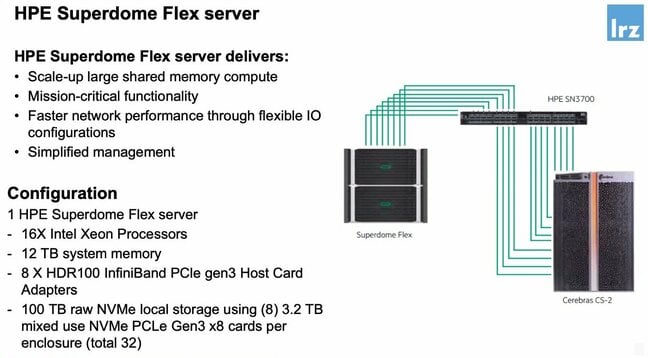 Click to enlarge
The LRZ team decided that the Cerebras technology, with its large shared memory and scalability, was a good match for the "pain points" they were trying to resolve, she said.
"And then the combination of Cerebras with the Superdome Flex from HPE, this seemed to make sense. The Superdome Flex has a very efficient pre and post-data processing, the resource management, it keeps the Cerebras system fed, and it keeps it nice and happy and full of data."
The Cerebras technology is built on the concept of using an entire silicon wafer to make the central processor, rather than cutting it up into individual chips. The result is a Wafer-Scale Engine that has 850,000 cores optimized for sparse linear algebra operations with 40GB of on-chip memory, fabricated using a 7nm production process.
"Each one of these cores is identical and fully programmable, built, from the ground up to optimize performance for the sparse linear algebra, compute operations that are common both to large scale AI and HPC workloads," explained Cerebras VP of product management Andy Hock.
"Each one of those cores is also directly connected to its four nearest neighbours across the entire device, within a high bandwidth, low latency interconnect mesh, and the dataflow traffic pattern between cores is fully programmable at compile time. So not only are we bringing massive compute resources to bear but also very high bandwidth memory and high bandwidth communication between those processors."
This architecture contrasts with the typical approach to tackling large-scale AI problems, which is to build a large cluster of servers. But as the problems and the models get ever larger, this approach shows diminishing returns, according to Cerebras.
"The time to solution doesn't scale linearly. So you might bring to bear, say, hundreds of processors, but only get a result tens of times faster," Hock said.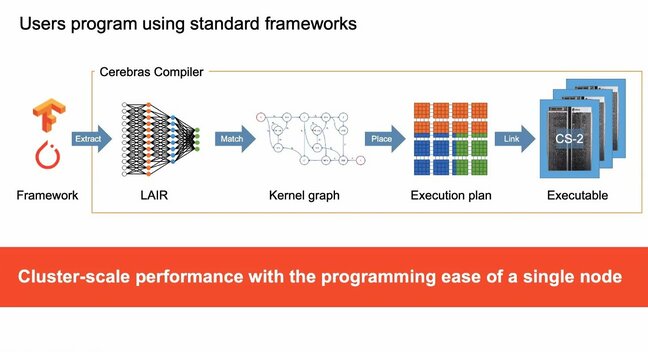 In contrast, the Wafer-Scale Engine, with its closely linked host of processors, allows for linear performance scaling out to models that are on the order of hundreds of millions of parameters or even billions of parameters, Hock claimed.
The CS-2 system has one of these Wafer-Scale Engines inside a 15U rack-mount chassis along with redundant power supplies, an internal liquid cooling system, and a dozen 100GbE network ports to link to the outside world.
In the new LRZ deployment, one CS-2 is linked using all those network ports to the HPE Superdome Flex via an SN3700M Switch using a fully non-blocking topology.
The Superdome Flex is fitted with eight InfiniBand HDR100 adapters to link it to the LRZ's backbone network and, according to HPE, "ensure a proper injection bandwidth from the file system to sustain the expected very high performance of the CS-2 and feed it smoothly."
The Superdome Flex itself has 16 Intel Xeon processors with 12TB of system memory and 100TB of NVMe local storage.
However, the key part of the whole system is the software stack, which Cerebras claims enables the LRZ scientists and researchers to use standard AI software tools to build code that will run on the CS-2.
"We know as researchers and scientists ourselves at Cerebras that a high performance computing platform is only good if it's easy to use, and we can only reach that broader user audience if we allow them to programme this machine with standard frameworks that they're using today," Hock said.
This is achieved through a compiler that allows users such as machine learning researchers and data scientists to develop in standard frameworks like TensorFlow, and PyTorch, and translates their code into an executable that can run on one or more CS-2 devices.
"We also have a lower level software development kit that many of our HPC audience are using to add custom kernels into our compiler to bring to life not just to AI applications, but also HPC applications for a wide range of projects ranging from signal processing to physics based modelling and simulation," Hock said.
Dr Dieter Kranzlmüller, chair of the Board of Directors at LZR, said that the new system would be used to combine aspects of traditional HPC and AI processing for some applications.
"We're following here an integrated supercomputer architecture, which means that the future HPC system is heterogeneous and we'll pick up all the help we can get from advanced technology," he said.
"So the idea is really that you will have your HPC application, but the HPC application will get additional benefits reaching out to specialized solutions for particular applications or a sort of a model where we improve the time to solution by replacing part of the complexity with AI models, then run these on a specialized chip, on specialized hardware."
The new deployment is not the first installation to pair a Cerebras system with an HPE Superdome server. As detailed by our sister site The Next Platform, the Neocortex supercomputer at the Pittsburgh Supercomputing Center at Carnegie Mellon University actually has two Cerebras systems, linked together and to the Bridges-2 supercomputer via the Superdome. ®
https://www.theregister.com/2022/05/25/hpe_cerebras_lrz/
Author: Tan KW
| Publish date: Wed, 25 May 2022, 9:52 PM

---
芯东西(公众号:aichip001)
作者 | 高歌
编辑 | Panken
近年来,中国公司屡遭美国芯片制裁,被誉为"芯片之母"的EDA(电子设计自动化)是国产芯片"卡脖子"的关键环节。今年3月,美国商务部长Gina Raimondo就曾提到,由于中国半导体公司依赖美国软件,美国政府甚至可以以此"关闭"中国公司。在全球EDA市场,美国Cadence(楷登电子)、Synopsys(新思科技)和Mentor(西门子EDA)三大巨头占据了90%以上的份额,国产EDA公司则难以撼动其地位。
芯片断供、EDA赛道被国际巨头垄断,引发了中国半导体产业乃至大众的关注。看着中国公司因断供而匆匆用专机抢运芯片的画面,时任复旦大学教授、博士生导师的陈建利,决定放弃优厚的待遇进行创业,为中国芯片"卡脖子"的EDA领域做出自己的贡献。
在学术上,陈建利屡获殊荣,曾和团队在国际EDA顶级赛事上连获3次冠军,还是54年来首个在EDA顶会DAC(国际设计自动化会议)上,以第一作者身份获最佳论文奖的中国大陆学者。在工业界,陈建利创办的上海立芯已获得包括华为哈勃在内的多家产业基金投资,正成为国产EDA领域的新兴力量。
近日,芯东西有机会和上海立芯的创始人、首席科学家陈建利进行了深入的交流,他分享了自己从学术界向产业界发展的经历和收获,以及期间的种种困难。
一、EDA顶会和赛事创下国内第一,放弃高薪组队创业
对于在福州大学、台湾大学和复旦大学的任教经历,陈建利总结称,这是一个从学术逐渐接触到工业界的过程。
陈建利的本科、硕士和博士均在福州大学攻读,博士研究生就读专业为应用数学。博士毕业后,他留任福州大学,专注于数学方法在EDA工具当中的应用,重点研究EDA布局技术。
陈建利称,以华为的麒麟9000为例,其内部有153亿颗晶体管如同一座城市,布局技术就是对这153亿颗晶体管进行的"城市规划"。从大四开始,他就一直专注于这个公认最难的EDA领域。
2016年,为了实现研究突破,陈建利到台湾大学进行为期一年的研究,在台湾大学教授、IEEE/ACM Fellow张耀文的邀请下,任台湾大学客座研究员。
▲曾担任IEEE CEDA(设计自动化技术委员会)主席的台湾大学教授、IEEE/ACM Fellow张耀文
这使他有机会和中国台湾的芯片龙头企业进行合作,真正接触到了先进制程以及工业界的研究。
2017年,在国际EDA顶级学术会议DAC上,陈建利以第一单位/第一作者获得了最佳论文奖,这是54年来大陆学者首次获得这一殊荣。
▲陈建利获得2017年DAC最佳论文奖
此外,在前段时间因华中科技大学获得冠军而破圈的顶级EDA赛事CAD Contest(国际集成计算机辅助设计竞赛)上,陈建利及其团队也是中国大陆首次冠军得主。2017年-2019年,他的团队连续三年获得冠军,是全球第二支实现这一成就的队伍。
2019年,国产FPGA芯片龙头复旦微电聘陈建利为FPGA事业部首席科学家。2020年,陈建利加入复旦大学微电子学院,任教授、博士生导师。
因为美国对中国企业的制裁以及芯片断供,陈建利决心创办上海立芯。谈到创办上海立芯的动机时,陈建利反复提到了一个词:情怀。
当时他一年在复旦微电和复旦大学的薪资待遇超过百万元。但陈建利看到中国企业的芯片被断供,想到自己此前在高校进行研究,获得了国家经费上的很多支持,从而决定从学术界转向工业界,为芯片的"卡脖子"领域做出更大的贡献。
他说道:"我觉得中国当代的年轻人,国家也给了我们很多支持,尤其是我以前在高校研究经费都有国家支持,那就是想着能不能在这个被'卡脖子'的领域有所贡献,做一些自己力所能及的事情。"
2020年11月,上海立芯成立。立芯这个名字共有三层含义,包含了陈建利这次创业的目标:第一,"立"与陈建利名字的最后一个字同音;第二,陈建利希望上海立芯在芯片领域建立新的功绩;第三则希望能够建设一个完全自主、可控的芯片生态,为国产EDA添砖加瓦。
二、自研算法、模型和引擎,团队规模已达百余人
上海立芯成立后,在2021年2月份获得了华为哈勃的投资。
陈建利坦言,自己之前偏向于学术研究,企业运营经验严重不足,因此在产业中寻找、接触了各式各样的人才。上海立芯的核心团队很多都是自美国硅谷回来的资深大佬,其CEO、研发副总等高管均具备在赛灵思、英特尔、新思科技等芯片巨头工作20年以上的行业经验。
对自己的团队成员,陈建利如数家珍地分享了他们的学习、工作经历。他强调,有的核心团队成员相比在芯片巨头工作时,如今在上海立芯的工资可能只有1/4,但还是回国全职加入上海立芯。陈建利感慨地说:"我觉得我们上海立芯这些人还是有一些情怀在的。"
目前,上海立芯团队规模达百余人,其中90%以上都是研发人员,并且具备博士学位的有18人。此外,上海立芯的首个产品LePlace已交付客户,正在打磨,计划在今年年底发布完全可商业化的EDA点工具。
▲上海立芯软件科技有限公司
由于在数学方法上的积累,上海立芯的EDA产品LePlace基于自研的数学模型,能够高效地处理百亿级晶体管布局。
谈到LePlace时,陈建利显得比较自豪,称LePlace既和自己名字最后一个字同音,也和他十分喜欢的法国数学家拉普拉斯(Pierre-Simon Laplace)名字较为接近。他也十分清醒,提到布局技术是EDA领域最难的问题,国内公司和EDA三大巨头的差距较大,并非短期内能够快速追赶,不然也无法被称为"卡脖子"的产业。
因此,上海立芯目标是做一家"小而精、小而美"的企业,专注在数字电路布局布线领域。陈建利认为,上海立芯当前先有一个产品能够提供给芯片企业,同时立足于的研发、自主的技术,希望可以在市场上占有一席之地。
当然从学术转向工业界并不容易。一方面,相比此前的学术研究,创企的事务更加繁琐;另一方面,学术界的研究比较基础,偏向于单一问题的解决,但工业界的问题需要多方考虑,满足实际产品需求。
陈建利称自己现在是痛苦并快乐着,自创业以来,因为其产品尚不完善,上海立芯的同事们都绷着一根弦,每天都在非常紧张地进行开发,工作到很晚。但当产品获得客户认可、某些指标和国际标杆EDA工具具有可比性时,这是团队成员成就感最大的时刻。陈建利自己也享受这样充实、忙碌的生活,希望能研发出一些可用甚至更好的产品,为国产半导体添砖加瓦。
除了华为哈勃,上海立芯还获得了中小企业发展基金、中金锋泰、国仪志芯、嘉兴建信宸玥等产业重要投资公司的战略投资。
2022年1月6日,上海市2022年五个新城首批重大项目签约,上海立芯是临港新片区管委会引入的两个重大项目之一,获得了相关政府部门对其项目的支持。
▲上海立芯签约现场
三、缩短学术与产业距离,要打造国产EDA
如今国产EDA创企集中出现,上海立芯也是其中的一员。
对这种现象,陈建利称,之前EDA市场较小、没有受到较大关注,当下国家和很多国产芯片公司有意愿去培养自主化的产业生态,就出现了创企成长的土壤。同时,这也是一个长期艰苦奋斗的过程,肯定会有一些企业被淘汰掉,但也会有一些企业生存下来,这是一个市场竞争过程,对国产EDA有所推动。
上海立芯等EDA创企的优势在于轻装上阵,其核心算法、引擎没有受到之前产品的约束。相对来说,国际EDA巨头的核心引擎发展时间比较久,比较难对整个核心引擎进行较大改变。
同时,上海立芯的技术团队,在算法和核心引擎上有一定的技术积累,可以实现一些突破。而其他EDA创企同样可以在自己擅长的某一个点上有所突破,最终形成产业变化,和国外的EDA巨头相竞争。
他也强调,EDA既然被称为"卡脖子"领域,必然有其难度所在,难以在一年、两年内出现技术上的重大突破,需要长期的努力和坚持。
相比整个半导体产业的万亿美元市场,当前全球EDA市场规模确实不大,但陈建利认为在"卡脖子"的领域不能完全考虑市场情况,因为当外国芯片供应链断供时,国产半导体就可能寸步难行,国产EDA领域需要有一些自主化的技术积累。
由于自己的经历,陈建利正在推动上海立芯和高校进行合作,希望缩短学术界和产业界的距离,加快人才培养。上海立芯和福州大学共建了"福州大学-上海立芯电子设计自动化研究中心",加速EDA人才培养。
陈建利说:"如今EDA乃至整个集成电路产业的薪资待遇有所提高,都也很不错了,也不是因为情怀就让大家牺牲些什么。"人才的培养这对于整个EDA行业来说是一件好事,且能够为自主的国产EDA工具贡献更多的力量。
结语:EDA创业潮已至,正吸引更多人才进入
随着EDA的国产化被半导体供应链越来越重视,近两年国内已出现一批EDA创企,并获得了大量投资和政府项目支持。这样的现象中当然有项目过热、资源人才不集中等问题,但也鼓励了更多的外企专家、学术界大牛进入,推动了国产EDA产业的发展。
在这样的创业浪潮中,上海立芯只是其中的一员。但中国芯片产业中正有更多的国产EDA创企出现,有更多的优秀人才被吸引,有更多的资本加入。谁又能否认,这些EDA创企中不能出现和国际巨头抗衡的企业呢?
https://zhidx.com/p/330208.html
Author: Tan KW
| Publish date: Wed, 25 May 2022, 7:27 PM

---
Russia will start a pilot project using its "digital" rouble with real customers and real transactions from April 2023, its central bank said on Wednesday, adding that the project would run ahead of the initial schedule.
With Western sanctions cutting off Russia from large parts of the global financial system, Moscow is looking for alternative ways to make key payments both at home and abroad. In April, Moscow planned to have the "digital" rouble capable of making international payments ready by next year.

- Reuters
Author: Tan KW
| Publish date: Wed, 25 May 2022, 6:43 PM

---
China's rapidly expanding sovereign digital currency has arrived in school in the form of a palm-sized device that allows parents to track the location and purchase records of their kids.
The new e-CNY "card", which is effectively a small mobile phone, is being made available to students at Hainan Luxun High School in the city of Sanya, in China's southernmost province. The device lets students make payments at designated stores and make calls with select numbers. Location tracking is enabled through GPS, according to state broadcaster China Central Television (CCTV).
Parents can place limits on the device using the e-CNY app, China's official digital currency wallet that became widely available to the public in January. The app lets parents top-up their children's e-wallets and access their consumption records using a special SIM card.
Parents can also choose which phone numbers can reach the device, which was co-developed by the Industrial and Commercial Bank of China and telecoms companies. In addition to the numbers of three trusted family members, parents can add up to 20 other numbers for incoming calls to the device to help children "avoid the harassment of unknown calls".
With smartphones banned by the education ministry at primary and middle schools, the project at Hainan Luxun High School, which covers grades one to 12, aims to satisfy the needs for parents and students to communicate and "address the issues of students' daily consumption and commuting safety", CCTV reported.
China became the first major economy to begin exploring its own central bank digital currency (CBDC) in 2014, an effort that ramped up in 2019. The e-CNY is now being trialled in many cities across China, but there is no official timetable for a national launch.
Current trials remain active in Beijing, Shanghai, Chengdu and Xian. Other cities such as Shenzhen and Suzhou have been involved with promoting the e-CNY since late 2019.
Trials are set to expand this year to more cities, including Chongqing, Tianjin, Hangzhou and Guangzhou.
Hainan has been the only location to get a provincewide e-CNY trial. As of mid-February, 116,800 stores across the island accepted the digital currency, according to the state-run People's Daily.
Nationwide, the e-CNY had 261 million users by the end of last year, double what it had in October.
China's rapid push to develop a sovereign digital currency, known officially as the Digital Currency Electronic Payment (DCEP), has made the country a global leader in the area.
Many other central banks have explored the development of a CBDC. Nine countries, seven of which belong to the Eastern Caribbean Currency Union, have launched a digital currency, according to the Atlantic Council. Another 15 countries are piloting a digital currency, but China is by far the largest economy to do so.
The US is among the 40 countries still researching the idea. The Federal Reserve released a research paper on CBDCs in January. The following month, the Federal Reserve Bank of Boston released research on two different architectures that could theoretically support a digital dollar.
The Bank of Japan has also advanced in this area, saying it moved to the second phase of its CBDC experiment in April, which focuses on financial stability. The bank did not clarify whether it would make a digital yen available to the public.
China said last month that it would expand cross-border use of the digital yuan "when the time is ripe", with technical testing already under way with Hong Kong.
- SCMP
Author: Tan KW
| Publish date: Wed, 25 May 2022, 6:28 PM

---
Police will suspend an officer who was arrested on suspicion of taking an upskirt video of a woman on an escalator in Hong Kong's main financial district, the force has revealed.
The 28-year-old constable, attached to Cheung Sha Wan Police Station, was off duty when the alleged act took place on Pedder Street outside Central MTR station shortly before 2pm on Tuesday.
He was accused of taking an upskirt video on his mobile phone of a 29-year-old woman on the ascending escalator leading to the Pedder Street footbridge, according to the force.
His alleged act was discovered by plain-clothes officers from the railway police district's task force who were patrolling the area at the time of the incident.
A photo posted online shows five plain-clothes officers pinning the off-duty constable on the ground, with many onlookers.
The Post learned that officers found the upskirt video in the suspect's mobile phone.
According to police, the man was being held for questioning and had not been charged. Detectives from the Central district crime squad are handling the case.
Police confirmed the man was an off-duty officer and would be suspended.
"Police attach great importance to the conduct of officers," the force said in its statement, adding that it had zero tolerance for illegal acts and the matter would be handled seriously.
In March, the Post reported that four police officers would face immediate dismissal after being arrested for allegedly having sex with an underage girl they met through a dating app.
The four constables were arrested at their homes on March 15 before reporting for duty. They were also suspended from work.
The 15-year-old girl involved was said to have met the four separately through a dating app late last year and had intercourse with each of them on different occasions. The girl revealed the relationships in February to a social worker, who alerted police.
A force insider told the Post in March that police chief Raymond Siu Chak-Yee was so outraged by the alleged crimes that he was considering using his legal powers to sack the accused before criminal investigations and disciplinary hearings began.
Under the Police Force Ordinance, a commissioner can fire a constable who has not completed 10 years of service by serving one month's notice in writing or paying one month's salary in lieu of notice.
A total of 37 officers were arrested on suspicion of various criminal offences in 2021, compared with 45 from the previous year.
- SCMP
Author: Tan KW
| Publish date: Wed, 25 May 2022, 6:28 PM

---
Twitter Inc will face skeptical shareholders on Wednesday during its annual meeting, as doubt remains over whether the social media company will complete its deal to be acquired by billionaire Elon Musk at the agreed-upon price.
The Tesla chief executive tweeted on May 13 that the $44 billion acquisition was "temporarily on hold" while he sought more information about the proportion of fake accounts on Twitter.
The company said last week it remained committed to the deal at the agreed price. However, investors have appeared unconvinced, as Twitter's shares closed on Tuesday at $35.76, representing a 34% discount to the $54.20 per share deal price.
While the virtual annual meeting will include a question and answer session on Wednesday, a Twitter spokesperson said the company will not answer deal-related questions.
Twitter investors are set to vote on five stockholder proposals, all opposed by management, which include asking the company to produce a report on its impact on civil rights and another on its lobbying activities.
The meeting itself will not be "particularly relevant" to the agreement to be acquired by Musk, said Donna Hitscherich, a professor of finance at Columbia Business School.
Even if shareholders approve any of the proposals, it will be non-binding, she said.

- Reuters