THE Employees Provident Fund's (EPF) revelation that many of its contributors risk falling into old-age poverty had set tongues wagging on social media.
While some urged the Government to take immediate steps to alleviate the situation, others started blaming the series of withdrawals under the i-Lestari, i-Sinar and i-Citra schemes for the situation.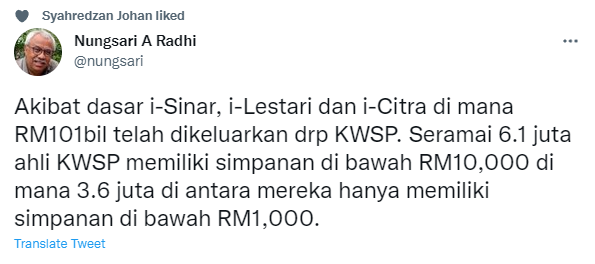 (It ss due to the i-Lestari, i-Sinar and i-Citra schemes, where RM101 bil was withdrawn. About 6.1 million EPF contributors only had less than RM10,000 in their accounts, with 3.6 million of them only having savings below RM1,000.
(Only three out of 10 workers have savings under EPF or the pensions scheme, at about 7.5 million from 23.5 million workers. EPF also stated that 5.7 million of our workers are self-employed or are in the informal sectors, where these people may undergo old-age poverty.
(Our Government should have focussed on alleviating old-age poverty in its economic rejuvenation programmes. The problem is also due to the Government's policy during the pandemic crisis itself)
Yesterday, EPF chairman Tan Sri Ahmad Badri Mohd Zahir said that its contributors are at risk of falling into old-age poverty but vowed to address poor social protection coverage among Malaysian adults and the issue of inadequate savings for retirement.
"We have seen how the issue of [saving] adequacy impacted our members' future retirement well-being, but there is more than just the issue of adequacy. Social protection is a human right for all.
"This includes those in all forms of work, including those in the formal and informal sectors as well," The Edge reported him as saying.
"To address adequacy of savings and retirement income, we need far-reaching solutions covering an effective safety net programme, comprehensive life-cycle social protection systems, robust labour market and wage policies, sustainable economic growth, reskilling and upskilling of the labour force, as well as policies to encourage automation and digitalisation to help increase productivity," Zahir added.
It is to note that low EPF savings, especially among the B40 community and those working in the informal sector, had been a problem even before COVID-19 due to rising income inequality.
Back in 1997 and 2004 itself, the United Nations Development Programme (UNDP) had highlighted in a series of reports that Malaysia has one of the highest income disparities between the rich and poor in Southeast Asia.
Income disparity, wage suppression the real culprit
Touching on Nungsari's criticism over the withdrawal schemes during the pandemic, user Soy Halima said that the people were desperate during the time, which required urgent attention.
Netizen Hisham Abdullah echoed Soy Halima's sentiments, adding:

On that note, user Oh Alem R told those arguing on the problem that they were missing the forest for the trees, reminding them that the real cause of the situation was wage suppression suffered by employees over the years.

(Even those still working are already subject to poverty. They withdrew the funds to keep themselves afloat, not purchase Vellfire. The real problem is low wages) – Nov 25, 2021.
Netizen Maro R remarked:
https://focusmalaysia.my/low-epf-savings-old-age-poverty-caution-set-tongues-wagging-on-social-media/