LETS JOIN KIM'S STOCKWATCH GROUP?
STOCK : HARTALEGA HOLDINGS BERHAD
[
TP1

: RM18.80 -
TP2

RM19.50
-
TP3

RM20.50
]
Cheap Call Warrant :
"TO BE HOT CAKES"
HARTA-C54

(CP 0.10 sen) - [TP 0.20 sen - 0.40 sen]
WHAT I WANT TO SAY?
EXPECTING WITHIN (10 DAYS) WILL FLYING AND TRYING TO BREAK RM20 & HIGHER!! BUT WHY...?
1. DUE INCOMING STRONG & IMPRESSIVE QR (21Q2) WHICH IS SUPERBULL!
Expect subsequent quarterly earnings to rise exponentially.

ASP for months of Sept to Dec is rising monthly by between 10% to 30% indicating supply tightness have further propelled ASP higher.

Nitrile gloves market share to gain further momentum with potential 30% growth.

Previous quater result Profit before tax (PBT) increased significantly by RM151.2 million to RM272.8 million (about 124.3%). Mainly due higher sales revenue, lower raw material and energy cost.

So my estimation for next 2QFY21 is about Profit after tax (PAT) 750 million++ above.
Previous Quater Report 21Q1
2. SOLID MANAGEMENT & OUTLOOK VERY BRIGHT!
Currently has total anual production capacity of 39.3 billion pieces and with a product mix of 96% nitrile and 4% latex gloves.

Demand for rubber gloves won't be affected by vaccines for the Covid-19 coronavirus and will continue to outstrip supply in the next three to four years.

Spot prices for gloves have jumped 30% this quarter and expects to increase 40-50% in coming quarters for them.

Earmarked RM1.5 billion investment to build their plants, of which first two lines will

be operational by October 2021. Another RM3 billion is for its next expansion phase, its so-called NGC2, which will be fully completed in (7) seven years.

Demand for gloves to outstrip production capacity over next 3 years. Glove dipping is a long process, the expansion or transition period (to meet the demand) is at least three years.

Order visibility or gloves is robust up to at least end of FY21

I am foresee the acute global shortage of gloves is likely to worsen as COVID-19 cases worldwide show no sign of slowing down.

I strongly believe and expect the situation to worsen as more western countries head toward the wintering in 4QFY20, which it could lead a further spikes in COVID-19 cases.
3. COVID-19 CASES WORLDWIDE IS NOT SHOW ANY SIGNS OF ABATING!
Asia: 12 349 067 cases; the five countries reporting most cases are India (7 494 551), Iran (526 490), Iraq (423 524), Bangladesh (387 295) and Indonesia (357 762).
America: 18 773 414 cases; the five countries reporting most cases are United States (8 106 752), Brazil (5 224 362), Argentina (979 106), Colombia (952 371) and Peru (865 549).
Europe: 6 976 052 cases; the five countries reporting most cases are Russia (1 384 235), Spain (936 560), France (867 197), United Kingdom (705 428) and Italy (402 536).
USA & EUROPE
Global coronavirus cases rose by more than 400,000 for the first time late on Friday, a record one-day increase as much of Europe enacts new restrictions to curb the outbreak.

The U.S. is staring down a 'substantial third wave' of coronavirus cases.

The U.S. is "facing a whole lot of trouble" as coronavirus cases continue to surge across the country, Dr. Anthony Fauci told.
MALAYSIA
Covid-19 cases hit fresh highs for the second day in a row, as it rose to 871 cases in the past 24 hours — barely beating yesterday's record of 869 new infections.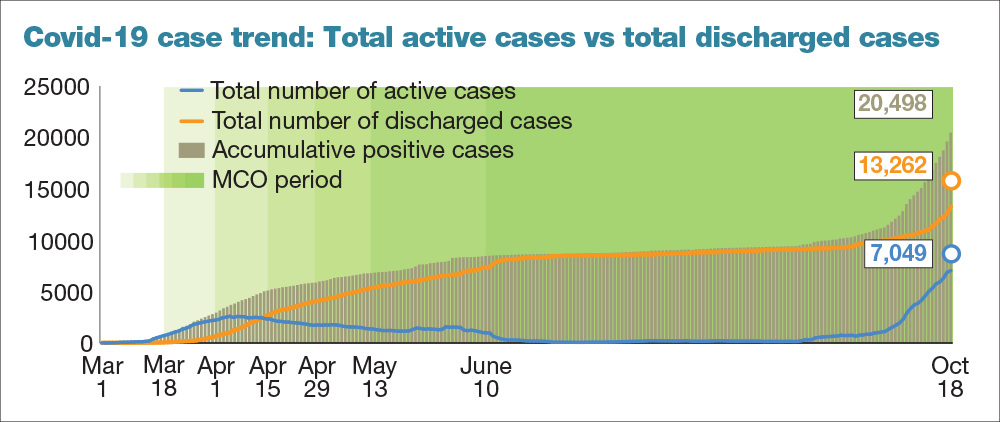 4. DOZENS OF COVID-19 VACCINES ARE STILL IN DEVELOPMENT.
Lets we take a look in vaccines situation. More than 150 coronavirus vaccines are in development across the world and hopes are high to bring one to market in record time to ease the global crisis. Several efforts are underway to help make that possible, including the U.S. government's Operation Warp Speed initiative, which has pledged $10 billion and aims to develop and deliver 300 million doses of a safe, effective coronavirus vaccine by January 2021.
The World Health Organization is also coordinating global efforts to develop a vaccine, with an eye toward delivering two billion doses by the END OF 2021.
It can typically take 10 to 15 years to bring a vaccine to market; the fastest ever, the vaccine for mumps required four years in the 1960s. Vaccines go through a three-stage clinical trial process before they are sent to regulatory agencies for approval, which can be a lengthy process itself.
Even after a vaccine is approved, it faces potential roadblocks when it comes to scaling up production and distribution, which also includes deciding which populations should get it first and at what cost. Many vaccines also stay in what's called phase four, a perpetual stage of regular study.
List of COVID-19 vaccines on developing stages as follows;-
Who: A biotechnology company based in Gaithersburg, Maryland.
Who: One of the world's largest multinational corporations, based in New Jersey, that specializes in healthcare and pharmaceutical products.
Who: A Massachusetts-based biotech company, in collaboration with the National Institutes of Health.
Who: One of the world's largest pharmaceutical companies, based in New York, in collaboration with German biotech company BioNTech.
Who: The U.K. university, in collaboration with the biopharmaceutical company AstraZeneca.
Who: A Chinese biopharmaceutical company, in collaboration with Brazilian research center Butantan.
Who: China's state-run pharmaceutical company, in collaboration with the Wuhan Institute of Biological Products.
Murdoch Children's Research Institute
Name: Bacillus Calmette-Guerin BRACE trial
Who: The largest child health research institute in Australia, in collaboration with the University of Melbourne.
Who: A Chinese biopharmaceutical company.
The Gamaleya National Center of Epidemiology and Microbiology
Who: A Russian research institution, in partnership with the state-run Russian Direct Investment Fund.
THE CONCLUSION
With this 4 points, I foresee there's no reason Gloves can't move and play within 10 days this month (October) to be rally and hit all my target.

Today have good news about Top Gloves came out said labour issues in US DOL report resolved and seeks quick lifting of import ban. This news can be a good catalyst for gloves theme comes back with a strong rally and can be seen as a strong player in KLCI.

Lets wait and see that "Gloves Maker and healthcare company dominated weekly volumes again this October".
LETS FLY & LETS ROCK THE GLOVES!
---
Lastly, don't forget to click on our telegram link above and join us. Let us give you the latest update on the stock market and our group development. We hope you enjoy reading our blogs and give us your support.
If you would like to know more about Kim's Group Trader (KGT) and Kim's Investment Club (KIC). You may reach out to us via link above.
Best Regards,
KIM
---
Disclaimers: The research, information and financial opinions expressed in this article are purely for information and educational purpose only. We do not make any recommendation for the intention of trading purposes nor is it an advice to trade. Although best efforts are made to ensure that all information is accurate and up to date, occasionally errors and misprints may occur which are unintentional. It would help if you did not rely upon the material and information. We will not be liable for any false, inaccurate, incomplete information and losses or damages suffered from your action. It would be best if you did your own research to make your personal investment decisions wisely or consult your investment advisor.