THE INVESTMENT APPROACH OF CALVIN TAN

Author: calvintaneng | Latest post: Fri, 14 May 2021, 8:01 PM

Hi Guys,

I have An Investment Approach I which I would like to all.
Author: calvintaneng
| Publish date: Fri, 14 May 2021, 8:01 PM

---
To play with PUMP & DUMP HOT STOCKS IS JUST LIKE TRYING TO STEAL FOOD FROM LIONS

A SYNDCATE WITH LOTS OF FUNDS WILL FIRST LOAD UP AN "X" STOCK ON THE CHEAP STEALTHILY UNTIL HE HAS BOUGHT UP THE MAJORITY SHARE - SAY 90% TO 95%

HE USE MANY PROXITY NAMES & COMPANIES TO HIDE HIS SECRET IDENTITY

SAY AFTER HE HAD BOUGHT SUBSTANTIAL SHARE OF A CORNERED COMPANY AT 50 SEN

HE WILL THEN CHURN STOCKS BY SELLING FROM LEFT HAND TO RIGHT HAND

AND FROM RIGHT HAND BACK TO LEFT HAND TO "CREATE VOLUMES"

AND HE WILL BE WILLING TO SPEND MORE TO BID UP THE SHARES ON THE WAY UP

SAY FROM 50 SEN & GOING UP TO 60 SEN

THEN SYNDICATES WILL PAY OR BRIBED MEDIA TO GO

"TAKE PHOTOS"

DO WRITE UPS

GIVE GLOWING FORECAST

GIVE VERY PROMISING PROJECTED PROFITS

AS THE MEDIA KEPT REPORTING ONE "GOOD NEWS" AFTER ANOTHER "GOOD NEWS" OF RUMOUR

SO AND SO IS COMING TO BUY

WHERE AND WHERE COMPANY WILL EXPAND TO

THE CROWD WILL THEN JOIN IN

AND SYNDICATES WILL THEN PUSH UP FROM 60 SEN TO 90 SEN "LIMIT UP"

AND LIMIT UP TO RM1.20

WHEN SC MADE INQUIRY THEY WILL EITHER SAY NO KNOWLEDGE OR COMPANY IS INTO SOME "NEW DEVELOPMENT" OR M&A

BY NOW THE SHARES WOULD HAVE FRIED & GORENG UP FROM RM1.20 TO RM5.00 OR RM6.00 (UP 1,000% TO 1,200% FROM 50 SEN ORIGINAL COST

BUT BY NOW THE SYNDICATE COST OF ENTRY WOULD HAVE ALSO GONE UP SAY TO RM1.00 REAL COST

SO THERE YOU ARE

PRICE NOW AT A LOFTY RM6.00

BUT REAL HOLDING COST ONLY RM1.00

SO THERE IS A HUGE RM5.00 IN BETWEEN

NOW IF SYNDICATES ARE IN CAHOOT WITH CORRUPTED COMPANY INSIDERS

THEY WILL TELL THE COMPANY ACCOUNTANT TO "COOK" THE BOOK OR COOK THE RESULTS & SHOW A GOOD QUARTER

THE MEDIA WILL THEN BE ROPED IN TO WRITE AND HIGHLIGHT THE "EXCELLENT" RESULTS

AT THIS THE WHOLE CROWD OF NEWBIES, SOTONG, SARDINES, SORCHAI, WATER FISH, IKAN BIIIS AND ALL GREEDY WHAT NOTS WILL RUSH IN TO CHASE IT INTO TOP VOLUMES

AT THIS PEAK SYNDICATES WILL START TO UNLOAD TO ALL THESE NAIVE CONNED GAMBLERS

TO THE SURPRISE OF ALL

ON GOOD RESULTS SHARES CLOSED RED

SO ON THAT DAY PRICE OPENED FROM RM6.00 & LIMIT UP TO RM7.80 (30% UP LIMIT)

IT FINALLY CLOSED AT RM5.50 (LOSS 50 SEN ON CLOSING)

AS TIME GOES ON SYNDICATES WILL INTERMITTENLY SUPPORT & UNLOAD AT THE SAME TIME

AND WHEN THEY HAVE LET GO ENOUGH TO COVER COST PLUS A GOOD PROFIT

THEY WILL THEN DUMP MERCILESSLY ALL THE WAY LIMIT DOWN AND LIMIT DOWN

MANY WHO "THINK" PRICES CAME DOWN FROM RM6.00 TO

RM5.00? AND BUY WILL CATCH FALLING KNIVES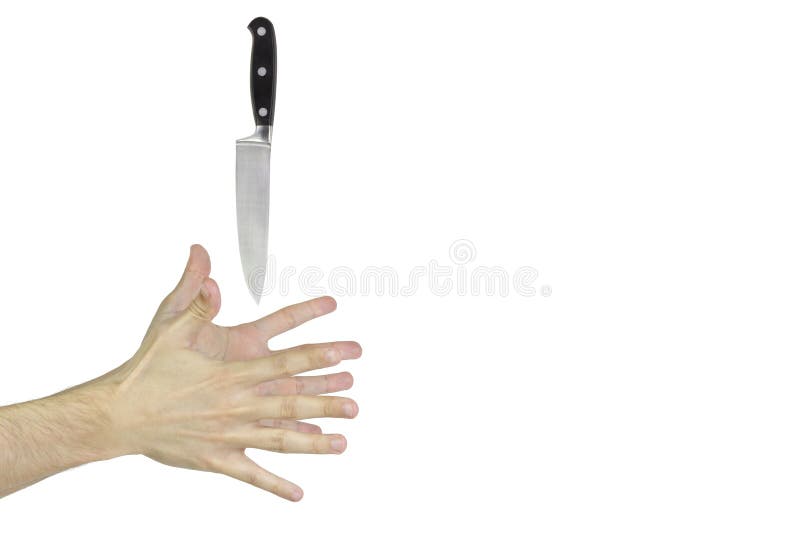 RM4.00 ALSO GET CAUGHT

RM3.00 PUN (TAK BOLIH)
THOSE VERY VERY DIE HARD GAMBLERS WHO NOW GO INTO MARGIN WILL GET CUT BY FALLING KNIVES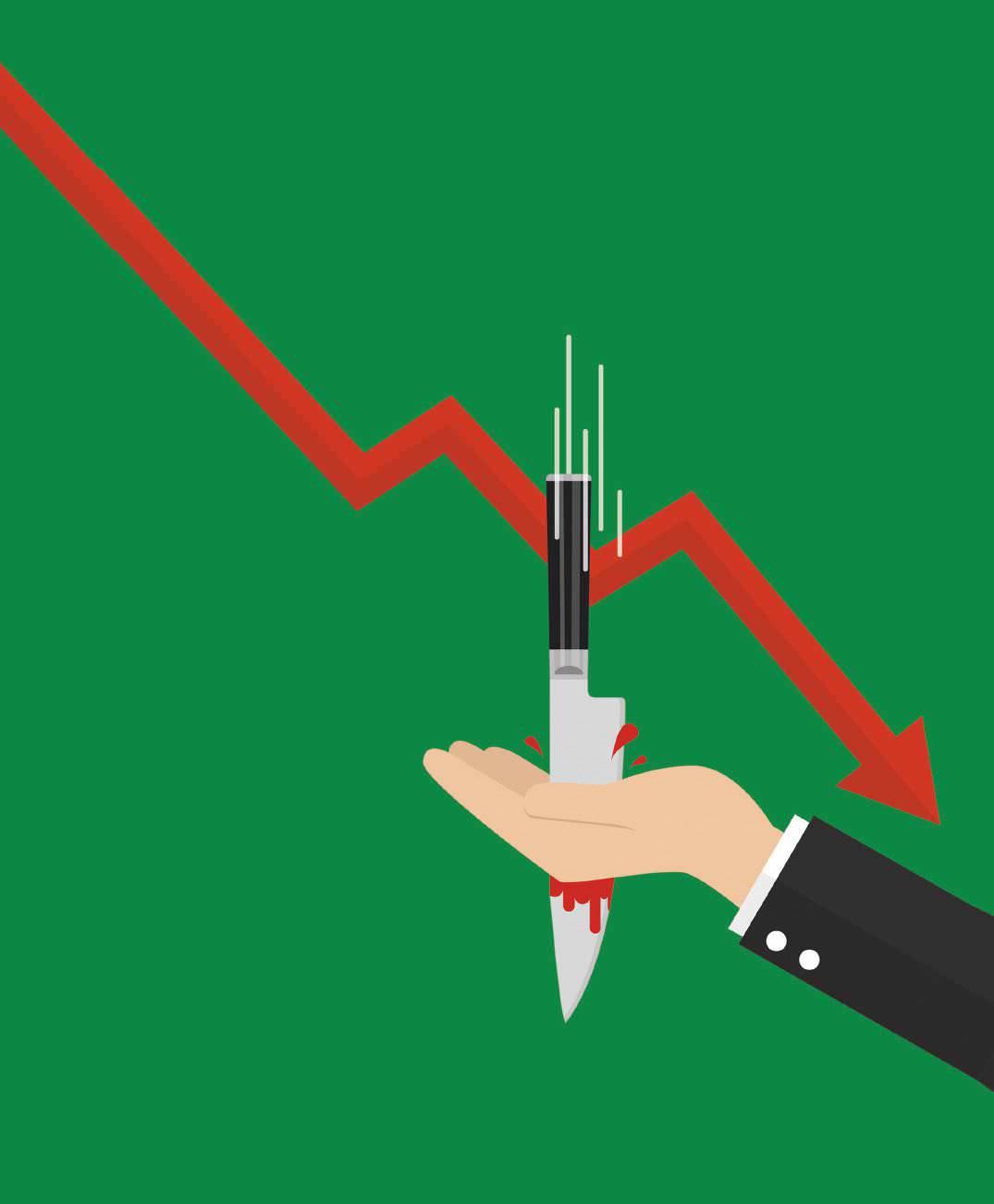 RM2.00 (HAVEN'T BOTTOM YET)

RM1.50 (CHEAP? NO!) SYNDICATE COST WAS 50 SEN

RM1.00 (STILL CANNOT BUY)

50 SEN?? (CAN BUY? BUY FOR WHAT? GAME OVER ALREADY. MONEY WILL GET LOCKED & GET STUCK FOR A VERY VERY LONG TIME

AS THEY SAY

THOSE WHO CHASED OR BOUGHT THIS SYNDICATED "X" STOCK FROM RM6.00 TO RM1.00 ARE NOW STAYING STRANDED IN PENT HOUSE

PAPER LOSS

IF THEY SELL THEN THEY WILL SEE ACTUAL LOSSES

SO VERY VERY FEW CAN MAKE MONEY PLAYING PUMP & DUMP SYNDICATED STOCKS

BETTER AVOID AS THE GAME IS RIGGED AGAINST THE SMALL GUY

SO DON'T TRY TO BE BRAVE (90% WILL LOSE MONEY FOR SURE!!!)

See (Chasing Pump & Dump Syndicate Stocks just like Trying to Steal Food From Lions
Steal food from lions safer from trying to make money from syndicates?
7 people like this.
Author: calvintaneng
| Publish date: Fri, 14 May 2021, 2:21 PM

---
Calvin replies to CynicalCyan,
I have been in i3 Forum since September 2013
So far many have come and gone through these 8 years
Lately, due to Covid 19 lock down many more have joined i3 investors' forum
And along with so many newbies have drawn in Pump & Dump Syndicates Which I hate
i3 forum is a place to share & learn investment ideas
So to post anything we have to be sure the facts are accurate and can be substantiated. At least if others cannot see as yet Time Will Eventually Proof what is right from wrong
It is of utmost importance that when we are wrong our losses are limited by "margin of safety"
And if right we should be happy but still keep humble as danger lurks in the world of perilous investing as we know 80% will eventually lose more than gain.
Now you forgot to highlight AND GIVE WARNING ON SO MANY PUMP AND DUMP STOCKS
like
Utusan - Which gone bankrupt
London biscuit also gone bankrupt
Others:
SAAG - Sagging all the way down to zero
Sumatech (SudaTrap)
MMAG - Warning given at Rm1.60 (Now 24.5 sen Crashed by 85%)
GPacket - Warning given at Rm1.60 (Now 35 sen . Crashed by 79%)
Dataprep (TataTrap: After money trapped say Tata)
Widad (we died)
PA (pokai already)
So many others given warning after warning in Jaks (Jaws over Rm1.00) Sendai (Send Die) PDZ, Yongtai (now Oldtai), Bintai, Inix (idiot), Solution, TOcean (Transmile was transfer your smile to cheating directors) So Tocean is transfer you to the bottom of the ocean and die there
So be very very very careful to do self study before investing your hard earned monies
Regards
Calvin
Be the first to like this.
Author: calvintaneng
| Publish date: Tue, 11 May 2021, 11:46 PM

---
Dear Friends?Investors
Ever wondered why World in Covid 19 lock down & many businesses & people in financial trouble YET PRICES OF COMMODITIES ARE ALL GOING UP IN PRICES?
The Answer is This
See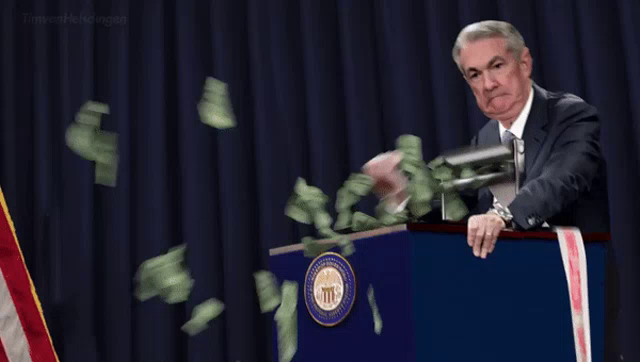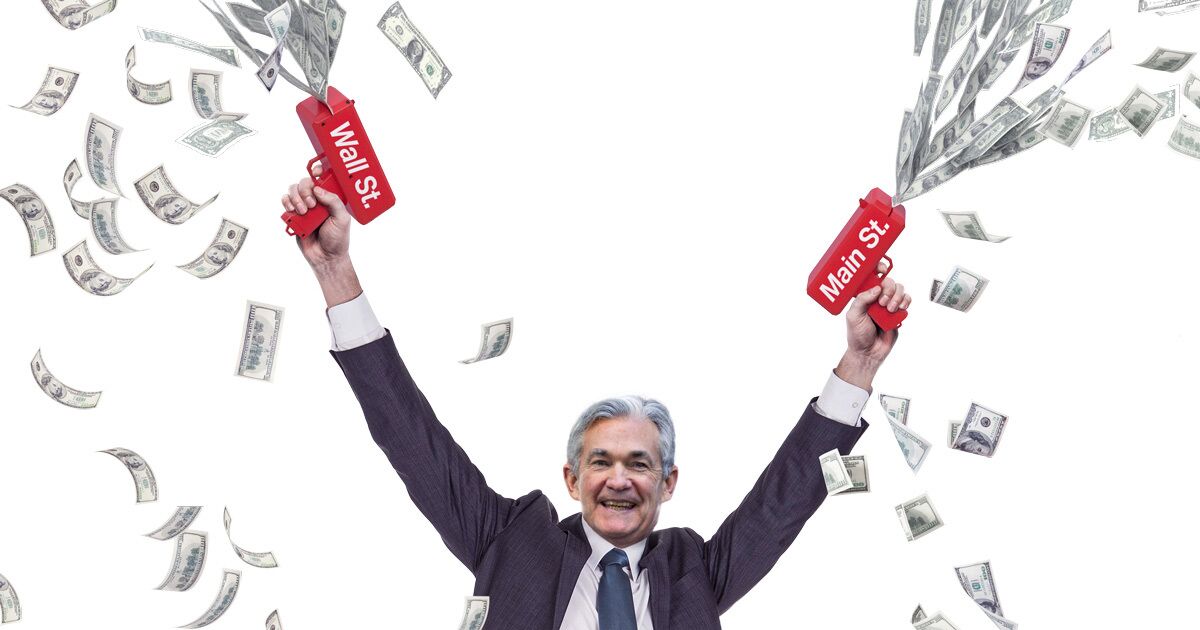 THIS IDEA WAS MOOTED BY ALAN GREENSPAN
VOCALISED BY BEN BERNANKE
NOW ACTUALISED BY BOTH JEROME POWELL & FIRED UP FROM BEHIND BY JANET YELLEN
https://www.usdebtclock.org/
AS A RESULT OF RELENTLESS MONEY PRINTING USD DEBT IS NOW OVER USD28 TRILLIONS
WITH A POPULATION OF RM300 MILLION CITIZEN NOW EVERY ONE BORN OR LIVE IN AMERCA OWE AN INDIVIDUAL DEBT LOAD OF USD93,000 OR OVER RM370,000 PER PERSON AND YET GROWING AND GROWING
THIS IS NOT REAL MONEY
THIS IS "BORROWED" MONEY FROM FUTURE GENERATION
AS THE USD IS EXCHANGED WITH THE WORLD THE DEBT IS NOW SHARED BY ALL
SO THE VALUE OF EVERYTHING IS DILUTED BY MONEY PRINTING FROM USA
IMAGINE THIS
IF YOU POUR WATER INTO MILK YOU WILL DILUTE THE CONTENT
See
SO IF THE NUTRIENT OF THE MILK IS DILUTED BY 50% WATER THEN YOU HAVE TO DRINK TWO GLASSES OF MILK INSTEAD OF ONE GLASS TO GET THE SAME STRENGTH
SO IS MONEY
THE VALUE OF MONEY IS DIMINISHED BY USA POURING FIAT MONEY INTO THE WORLD FINANCIAL POOL OF MONEY & DILUTES IT
AS A RESULT EVERYTHING GOES UP BY INFLATION
THE DREGREE OF INFLATION WILL DEPEND ON THE DEGREE OF USA FLOODING THE WORLD WITH MORE PRINTED MONEY
AS SUCH WE CANNOT KEEP CASH. CASH IS IN DANGER ON ITS OWN AS ITS VALUE IS EXCHANGEABLE WITH "FAKE" MONEY AS ROBERT KIYOSAKI CALLED IT
WHAT THEN?
IN TIMES OF HIGH INFLATION WE MUST PUT CASH INTO ASSETS OF VALUE LIKE GOLD, SILVER, LANDS, HOUSES, FARMLANDS, STOCKS OF VALUE, SHARES OF GOOD COMPANIES & EVERYTHING MAN CANNOT CREATE OUT OF THIN AIR
BEST REGARDS
Calvin Tan Research
THIS IS NOT A BUY OR SELL CALL BUT A HARING OF IDEAS
THANK YOU
Be the first to like this.
Author: calvintaneng
| Publish date: Tue, 11 May 2021, 10:21 PM

---
Dear Friends/Investors of i3 Forum
If you read the opinions of analysts and media they all surmise that CPO Prices will only be good for the 1st Half Year of 2021
And they all conclude that by 2nd Half of 2021 CPO will soften and fall lower to as low as Rm3000 a ton or even lower to Rm2700
Now we think this Time CPO Prices will go up much much higher because of these TWO POWERFUL FACTORS
1) THE RISE OF WHEAT, CORN & SOYBEAN COLLECTIVELY DUE TO DROUGHT, FLOODS & DEMAND FROM CHINA
See how High Soybean Oil has Risen
| Date | CPO, BMD (US$/MT) | SBO, ROTT (US$/MT) | PO Discount to SBO |
| --- | --- | --- | --- |
| 6 May 21 | 1023 | 1580 | 557 |
| 5 May 21 | 982 | 1558 | 576 |
| 4 May 21 | 985 | 1548 | 563 |
| 3 May 21 | 990 | 1554 | 564 |
| 30 Apr 21 | 943 | 1500 | 557 |
| 28 Apr 21 | 960 | 1525 | 565 |
| 27 Apr 21 | 992 | 1570 | 578 |
| 26 Apr 21 | 947 | 1520 | 573 |
As can be seen from the above Prices for Msay 6th 2021
CPO (Crude Palm Oil) was USD1,023 A METRIC TON & SBO (Soy Bean Oil) is USD1,580
How much higher is Soyoil
USD1,580 minus USD1,023
= USD557 EXTRA
HOW MANY PER CENTAGE MORE
USD557 Divides by USD1,023
= 54.4% More
From here we SEE that Soybean Oil is 54.4% More Expensive Than Crude Palm Oil
Other Vege Oils are all more expensive than Soybean Oil
SO THERE IS NO OTHER CHEAPER SOURCE OF VEGE APART FROM PALM OIL
Since the Difference is so Huge at 54.4% the chances of More People Turning To Cpo due to economy is getting better and better as inflation get worst.
SO WHEN PEOPLE SAY CPO PRICE GOES UP INDIA WILL STOP BUYING PALM OIL AND WILL TURN TO BUYING OTHER CHEAPER VEGE OIL (THIS IS IMPOSSIBLE AS PALM OIL IS THE CHEAPEST ON WORLD MARKET)
SOYBEAN OIL, CORN OIL, CANOLA, SUNFLOWER SEED OIL, GROUND NUT OIL, COCONUT OIL & OLIVE OIL ARE ALL WAY MORE EXPENSIVE THAN PALM OIL
BUT CRITICS & DOUBTERS SAY BY NEXT HALF OF 2021 PRODUCTION OF CPO WILL INCREASE SO PALM OIL PRICES WILL GO DOWN OR LOWER
Again look at the Dry Weather in USA, Brazil & Argentina - All Major Corn & Soybean producing Countries Now in Drought
See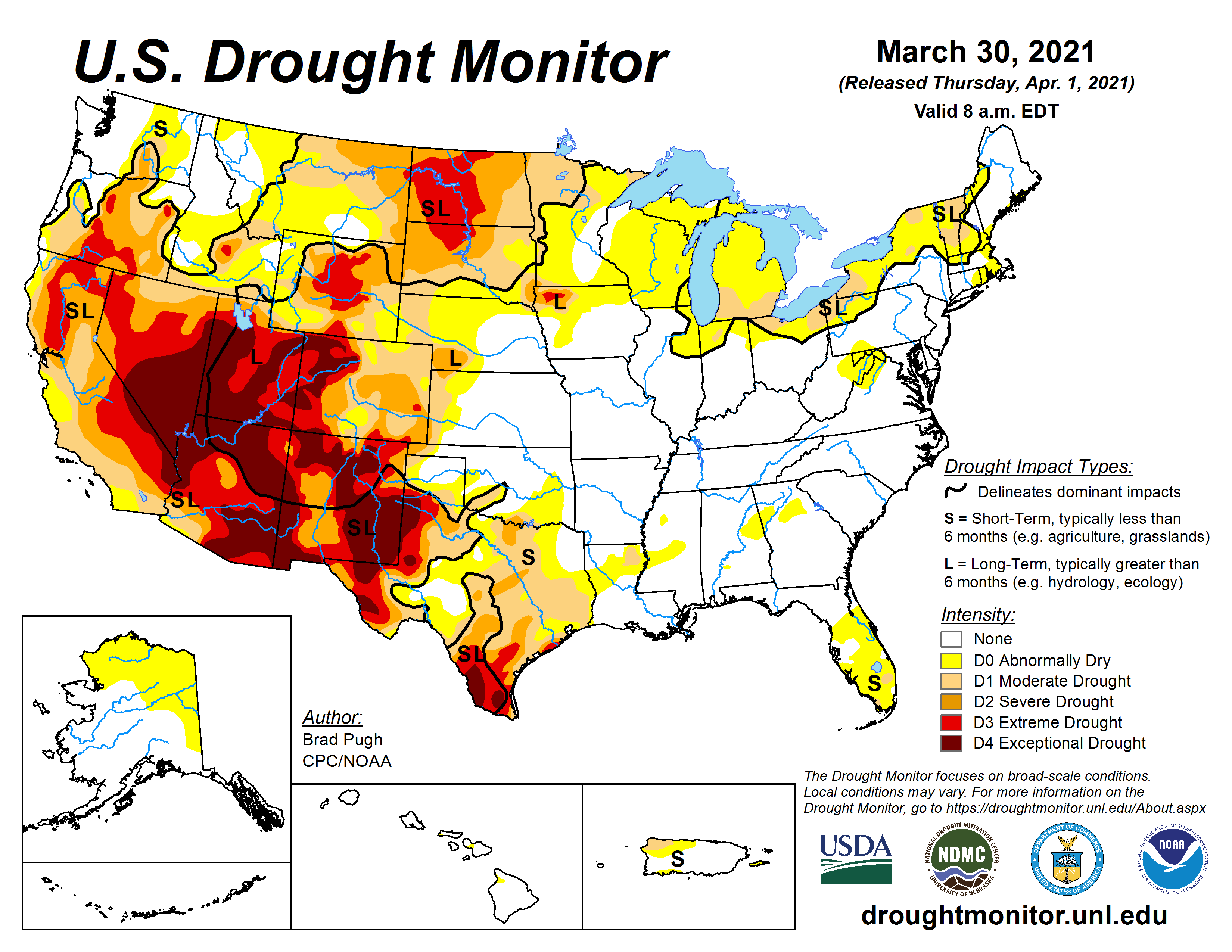 As you can see
HALF OF USA IS IN DROUGHT. USA IS AMONG THE WORLD BIGGEST PRODUCER OF SOYBEAN & CORN
2) THE SECOND REASON WHY PALM OIL PRICES WILL REMAIN ELEVATED IS DUE TO JOE BIDEN PIVOTING TO GREEN ENERGY DUE TO CLIMATE CHANGE
AS A RESULT PHILLIPS 66 & OTHER REFINERIES ARE NOW CONVERTING TO BIOFUEL
THIS WILL FOLLOW BRAZIL IN USING CORN AS BIODISEL & INDONESIA USING PALM OIL AS BIODISEL
USA'S SUGAR, CORN & SOYBEAN WILL NOW BE CONVERTED INTO GREEN ENERGY BIOFUEL LIKE NEVER BEFORE
THAT MEANS THAT THERE WON'T BE ENOUGH COMPETING VEGE OIL EVEN FOR WHOLE OF 2021 & BEYOND AS LONG AS JOE BIDEN IS IN POWER
See
ETHANOL FROM SUGAR CANE, CORN OR SOYBEAN
THE MORE ETHANOL CONTENT THE CHEAPER AND CLEANER THE FUEL
See Phillips 66
Phillips 66 Plans to Transform San Francisco Refinery into World's Largest Renewable Fuels Plant
Conversion is expected to reduce the plant's greenhouse gas emissions by 50%
HOUSTON--(BUSINESS WIRE)-- Phillips 66 (NYSE: PSX), a diversified energy manufacturing and logistics company, announced today that it plans to reconfigure its San Francisco Refinery in Rodeo, California, to produce renewable fuels. The plant would no longer produce fuels from crude oil, but instead would make fuels from used cooking oil, fats, greases and soybean oils.
The Phillips 66 Rodeo Renewed project would produce 680 million gallons annually of renewable diesel, renewable gasoline, and sustainable jet fuel. Combined with the production of renewable fuels from an existing project in development, the plant would produce greater than 800 million gallons a year of renewable fuels, making it the world's largest facility of its kind.
The project scope includes the construction of pre-treatment units and the repurposing of existing hydrocracking units to enable production of renewable fuels. The plant will utilize its flexible logistics infrastructure to bring in cooking oil, fats, greases and soybean oils from global sources and supply renewable fuels to the California market. This capital efficient investment is expected to deliver strong returns through the sale of high value products while lowering the plant's operating costs.
SO FROM THESE EXAMPLES WE KNOW THERE IS NOW A LONG TERM STRUCTURAL CHANGE FOR THE USE OF PALM OIL ALONG WITH SOYBEAN OIL AS A RENEWAL BIOFUEL
BEST REGARDS
Calvin Tan Research
bulldog

likes this.
Author: calvintaneng
| Publish date: Tue, 11 May 2021, 3:12 PM

---
Hi guys
Yesterday Dow Jones swooned & Nasdaq crashed
Reason was due to inflation because of High Commodities' prices
High Commodities' prices?
YES!!!!
IT SHOULD BENEFIT PALM OIL SHARES AS CPO PRICES UP SO HIGH MEAN VERY HIGH PROFITS COMING PLANTATION SHARES' WAY
See
| | | | | | | | | | | | | |
| --- | --- | --- | --- | --- | --- | --- | --- | --- | --- | --- | --- | --- |
| 13 | FCPO | May 2021 | 4,840.00 | 4,875.00 | 4,884.00 | 4,880.00 | +20.00 | 4,923.00 | 4,840.00 | 244 | 1,848 | 4,860.00 |
| 14 | FCPO | Jun 2021 | 4,570.00 | 4,646.00 | 4,649.00 | 4,653.00 | +29.00 | 4,692.00 | 4,570.00 | 1,477 | 19,188 | 4,624.00 |
| 15 | FCPO | Jul 2021 | 4,315.00 | 4,390.00 | 4,391.00 | 4,390.00 | +22.00 | 4,434.00 | 4,309.00 | 14,699 | 59,619 | 4,368.00 |
| 16 | FCPO | Aug 2021 | 4,090.00 | 4,165.00 | 4,167.00 | 4,163.00 | +14.00 | 4,206.00 | 4,089.00 | 5,897 | 35,586 | 4,149.00 |
| 17 | FCPO | Sep 2021 | 3,943.00 | 4,015.00 | 4,018.00 | 4,014.00 | +15.00 | 4,051.00 | 3,940.00 | 4,024 | 22,284 | 3,999.00 |
| 18 | FCPO | Oct 2021 | 3,856.00 | 3,917.00 | 3,922.00 | 3,915.00 | +12.00 | 3,952.00 | 3,844.00 | 1,947 | 27,832 | 3,903.00 |
| 19 | FCPO | Nov 2021 | 3,801.00 | 3,863.00 | 3,869.00 | 3,860.00 | +10.00 | 3,899.00 | 3,793.00 | 2,448 | 18,415 | 3,850.00 |
| 20 | FCPO | Dec 2021 | 3,768.00 | 3,827.00 | 3,832.00 | 3,832.00 | +13.00 | 3,866.00 | 3,765.00 | 2,349 | 14,041 | 3,819. |
And see this
bulldog

likes this.
Author: calvintaneng
| Publish date: Sat, 8 May 2021, 1:00 AM

---
This is a reposted article
The Eight Stages of A Hot Air Balloon Stock
NOTE: THIS ALSO APPLY TO CYCLICALS LIKE GLOVES, STEEL/ALUMINIUM & PALM OIL
Stage No. 1. PermaFrost
Snow that is frozen for 2 or more years are called permafrost
perma - as in perma-nent
frost - be freezed over
This is the stage of a really dead stock that no research house will bother. Not a single soul is interested. The exception must be the only one in ten thousand who dare to buy any.
Stage No. 2. Thawing
Frozen Solid Ice starts to thaw or soften a little
A very slight passing glance by some value investors or deep value hunters. Only the very brave who SEE VALUE Will dare to buy some.
Stage No. 3 ICE Now Turning to Cold Water.
Some brave souls dare to venture in. Of course it's cold. Every where people pour scorn and cold water on the stock. Very few pay any attention. Remarks are usually negative. From Remisiers, fund managers, one and all. Same conclusion - the stock is not in their investment radar. So most reject it..
Stage 4. Cold Water no longer cold. It is now at room temperature.
Ha! there is a little attention paid by value investor. For the rest it is neither cold nor hot. So lukewarm response. No longer negative like before. But not positive either. A few hopeful investor starts to accumulate.
Stage 5 Water starts to boil
Ha! the heat or fire cause the water to stir a little now. There is warm and movement.
Company reports a good quarter. Or some great contract awarded - real or assumed. Some by merger news. Some favourable factors due to ringgit crash and strong US Dollar translating into higher profits. Or cheap oil benefiting rubber glove, logistic stock like transport or airline. There is now a stir in the stock.
Newspapers, analysts, experts, punters and all are paying attention now. More people talk about it in internet forum and even the media reports it.
Buyers are coming in and there is a great stir at last. Things are now coming alive. Prices moving upward. Many are making monies.
Stage 6. Boiling Water Turning Very Hot in the kettle. The water now churning in violent waves in the pot or kettle with steaming hot movements.
At long last the stock is very hot. Post after post by i3 forum member. All are universally drawn and sucked in. Like insects flying into bornfire at night there is a red hot wild attraction. As more people telling how they made killings in the stock market even more and more people are drawn into the red hot hot stock.
Those who made money early are now piling more and more monies into the red hot stock. Some even go into margin account to buy more.
Prices leap up to the cheers of all and sundry. Everyone is so happy. Happy in a sure winner. Emotion is now flying high. Any opposing view is slammed down in a frenzy. Reason is now overtaken by exuberance.
Stage No. 7. Hot Steam Rises Up The Sky As Hot Air To Form Cloud
All are now in cloud nine. Naysayers are condemned and proven wrong. The sky is the limit for the price. Can now fly to the moon or mars. More monies piled in. More suckers drawn in by greed.
This is the happiest time for all. But throwing all caution to the wind this is also now the most dangerous time to hold or buy more.
In Bursa every day the hot stock is traded in top 10 volumes
In internet forum this is the stock conversation revolves around day and night. Media reports it and tell why it should go even higher. Experts suddenly appear to tell you this time is different. The sky is the limit. Or the sky is not limit. It should fly to outer space.
See example:
Sumatech has a total of 121,603 posts
121,603 POSTS? AMAZING INDEED!
And 123 people clicked like for sumatech
All finally caught in SudaTrap
123 people like this.
Showing 10 of 121603 comments. Show more comments
Hmmm?
IFCA Also got many posts & likes
Showing 10 of 45505 comments. Show more comments
Hmmm?
Airasia also look like one now with 40,978 hot hot comments
Showing 10 of 40978 comments. Show more comments
Stage No. 8 Precipitation - Cloud falls down and crash back to earth in torrential rain.
All caught holding high flying shares on the steep fall to earth are in despair. This is the ultimate result for those who chased hot hot stocks at the very peak = total loss and bankruptcies.
See from permafrost to precipitation stocks
SUMATEC RESOURCES BERHAD [S] (1201)
Company Website
Annual Report
General Meetings
---
Calvin comments:
For Medical Gloves it is now at Stage 7 going to 8
For Steel/Aluminium at stage between 6 & 7
For Palm Oil now moving from Stage 3 to stage 4
SO FROM HERE THERE IS A CLEAR SIGN THAT GLOVES ARE OVERVALUED, STEEL/ALUMINIUM FULLY VALUED BUT PALM OIL STILL FAIR OR UNDERVALUE
BEST REGARDS
Calvin Tan Research
Please buy or sell AFTER doing your own due diligence. In doubt consult your remisier or Fund Manager
STAGE OF PERMAFROST (ICE FORM: SOLID AND LIFELESS) NO BODY INTERESTED IN SUCH "DEAD" STOCKS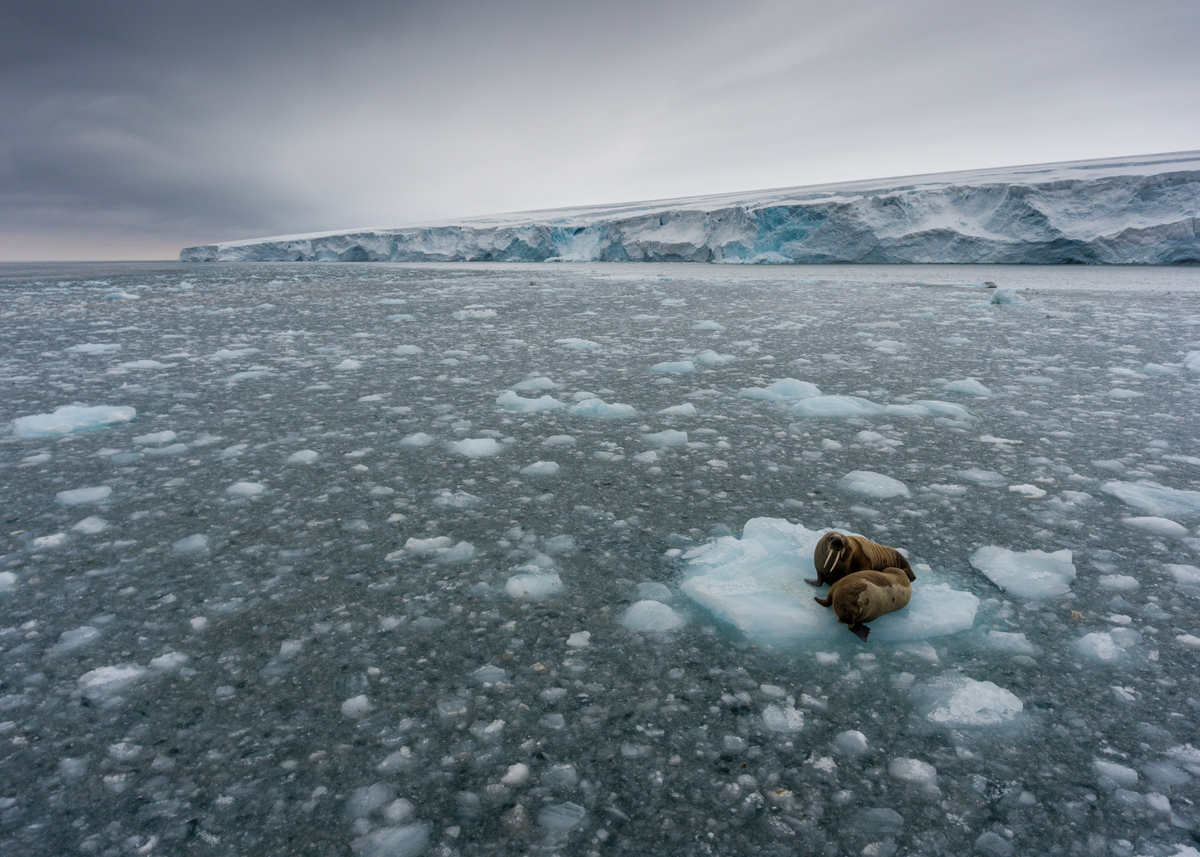 STAGE OF A HOT STOCK (MANY PEOPLE ARE NOW HOT IN PURSUIT: HOT TOPIC AND HOT STOCK IN CONVERSATION
STAGE OF CLOUD NINE (ALL ARE IN EUPHORIA & CELEBRATION AS SHARES REACHED PEAK & HIGH UP THE SKY)
AND THOSE WHO STILL CHASE AND BUY ARE IN GREATEST DANGER: 90% OF THE PEOPLE NOW FULL OF CONFIDENCE
STAGE OF MARKET CRASHING DOWN
FALLING PRICES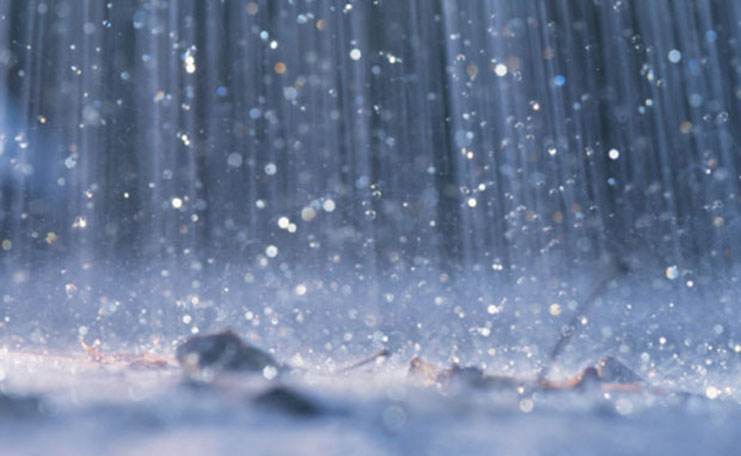 STAGE OF LOOKING FOR SHELTER FROM THE STORM OF LOSSES
Be the first to like this.
calvintaneng
Greedy44

Tyvm

Your ID got secret code

Greedy44??

Greedy then followed by 44?

Yes if we are greedily chasing Market At Bubble Zones then will end up die die (44)
PATIKAYA
Burung calavin ini melingkup hutan melintang..mana sarang netx
patrico8
Glove stage 8 was last year overboiled and turned to steam. Then fell down to earth and now is at stage 3, warming only. Prices fell more than 60% from ATH.
stockraider
The direction is strong accumulation for IJMPLANT mah...!!

This company has 60k planted hectarage in sabah & indonesia, alot of its plantation is emerging as prime stage mah!
This will boost its revenue & profits with good cpo price loh...!!

U can expect superb result this coming December qtr mah...!!

Strong buy, do not missed loh!

What does this cpo price trend below tell U leh ??

Date Settlement Price RM
7 May 4788
3 Dec 3332
2 Dec 3316
1 Dec 3347
30 No 3305
27 No 3338
26 No 3227
25 Nov3285
24 No 3249
23 Nov 3326
20 Nov 3288

Ans; Rising CPO price and Rising Profit loh!!

Until Sept latest qtr result cpo average is roughly rm 2600 mah!!

December QTR we will be seeing conservatively Average Price Rm 3200, that is 23% increase in price n this increase revenue will all goes to the bottom line profit as there are no cost applicable to revenue generated from price increase loh...!!

Just imagine if Average palm oil price is Rm 2800, U already see super strong profit loh!! But now we are at above 4788 loh...!!

Can U forecast & project what will palmoil company potential super profit at rm 4500 cpo leh ?
calvintaneng
For cpo it is uptrending

The best is yet to come
calvintaneng
The best cpo world record prices
The best days
The best bull upside

All are still ahead as the best is yet to come

See all At The Top
CCWONG
The whole commodities' markets, economics, supply and demands are on the upwards trends and best is yet to come.

Staying high up there for a prolonged period is good enough.
calvintaneng
Slow and steady up for Palm oil this year

What glove did last year palm oil is repeating this year

Success begets success!