Very good morning all
Time is getting nearer
Felda going to take FGV private at Rm1.30
Now see how cheap the Assets of FGV in another amazing discovery
For this let's go take another look at FGV assets
See FGV Annual Report 2019 (scroll down to Top 10 Properties owned)
See
Let Us Take A Look At One At Top Number 4 Properties Listed
4. Johor Darul Takzim
Inas Selatan, Kledang 02, Maokil 06, Maokil 07,
Nitar Timur,
Paloh
, Tenggaroh 09, Tenggaroh
11, Tenggaroh 12, Tenggaroh 13, Tenggaroh
Timur 02, Palong Timur 04, Palong Timur 05,
Semencu,
Pasir Gudang
,
Semencu, Bukit
Besar, Air Tawar, Penggeli, Kahang, Lok
Heng, Selanchar 2A, Tenggaroh 4, Adela,
Moakil, Nitar, Selanchar 2B, Belitong, Wa Ha,
Tenggaroh Timur,
Kulai

, Plentong,

Tanjung
Langsat Industrial Complex
Now Let Us Calculate The Actual Value Of These Lands
Land Size 33,914 Hectares
Net Book Value: Rm265,873,000
To Get Per Sq Feet Value First Convert Hectare To Acre
1 Hectare Equals To 2.471 Acre
So 33,914 Acres X 2.471 = 83,801 Acres
So Multiply 83,801 Acres By 43,560 To Sq Feet = 3,650,371,560 Sq Ft
Wow Over 3.6 BILLION S FT LANDS IN JOHOR ALONE!
Now To Get Price Per Sq Feet
Divides Rm265,873,000 By 3,650,371,560 = 0.072 Sen
PHEW!!! ONLY 7.2 SEN COST PRICE PER SQ FEET?
NOW FGV BOOK VALUE FOR

TANJUNG LANGSAT INDUSTRIAL COMPLEX

LAND IS ONLY 7.2 SEN
LET US TAKE A LOOK AT TANJUNG LANGSAT INDUSTRIAL COMPLEX
DIRECTLY OPPOSITE IS TEKONG ISLAND (FAR DISTANCE) OF SINGAPORE
BELOW IS MSM SUGAR WAREHOUSE IN TANJUNG LANGSAT INDUSTRIAL COMPLEX
BOOK VALUE OF LAND & BUILDING ONLY 7.2 SEN PSF (CURRENT VALUE SHOULD BE RM100 PSF)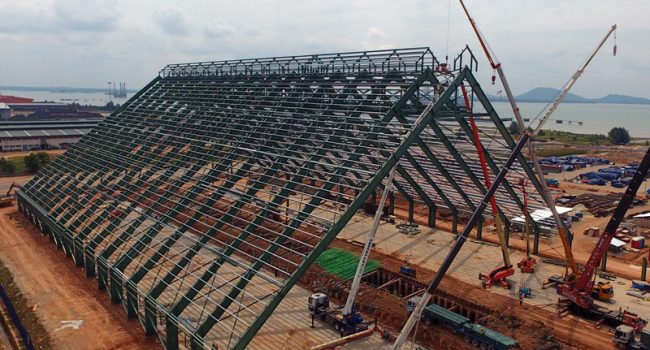 THE STEEL BEAMS ALONE WORTH MORE THAN RM2500 OR MORE PER TONNE
VERY STRANGE THAT BOOK VALUE DOES NOT REVEAL ACTUAL VALUE
BUT SEE THIS NEWS
MSM to build RM1.1bil sugar refinery
KUALA LUMPUR: Sugar refiner MSM Malaysia Holdings Bhd

has plans to expand its business with deals to build a RM1.1bil refinery in Tanjung Langsat, Johor, as well as acquire mills and a plantation from a state-owned Indonesian sugar producer.
Group chief executive officer Datuk Dr Sheikh Awab Sheikh Abod (pic) said MSM was confident of winning the tender for the Indonesian mill development project, despite there being four other parties bidding for the project.
He said this would build up the company's upstream business.
"We are proposing a built-operate-transfer model for the project. The sugar producer has five mills now, of which we plan to shut down three and focus only on two mills.
IS MSM SUGAR PART OF SYED MOKTAR INTEREST?
Felda Global - To inject MSM into SPV run by Syed Mokhtar?
Author: mirama
| Publish date:
---
The Edge Malaysia weekly reported that Tan Sri Syed Mokhtar has proposed a formation of a special purpose vehicle (SPV), where MSM Malaysia and Tan Sri Syed Mokhtar's sugar assets will be injected into. The special purpose vehicle will be run by Syed Mokhtar.
MSM's market share of the sugar industry in Malaysia was 60% in 2016 while Central Sugar's market share is the remaining 40%.
FGV officials are currently evaluating the proposal. The Edge Malaysia said that while FGV appears to be willing to part ways with the sugar business, Syed Mokhtar's plan falls short. However, there were no details on the shortcomings of his proposals.
Central Sugar, which is owned by Syed Mokhtar, was reported to have recorded a net profit of RM98.1mil on the back of a turnover of RM1.4bil in FY16. In comparison, MSM's net profit was RM120.7mil on the back of revenues of RM2.7bil in FY16.
It is not known how much Central Sugar's net profit was in FY17. MSM recorded a net loss of RM32.6mil in FY17 as it was hit by a high cost of raw sugar in 1HFY17.
Whether or not the proposal is beneficial to FGV depends on the valuation or pricing for MSM Malaysia. Also as MSM is listed, we are unsure if it has to be privatised first before being injected into the special purpose vehicle or whether MSM will be sold directly to the special purpose vehicle and hence, all shareholders in MSM would be offered shares in the special purpose vehicle.
It is uncertain if the special purpose vehicle has reserves to make a cash offer for MSM.
MSM's market capitalisation is RM2.5bil currently, which implies an FY18F PE of 16.7x and FY19F PE of 16.2x. We have a fair value of RM4.30/share for MSM, which is based on an FY18F PE of 20x. MSM was listed in 2011 at an institutional IPO price of RM3.50/share and retail IPO price of RM3.38/share.
If FGV were to hold shares in the special purpose vehicle as consideration for the disposal of MSM Malaysia, we reckon that the special purpose vehicle would be an associate or joint venture. However, the earnings base would be larger as it would hold Central Sugar and MSM. We think that Syed Mokhtar would hold a controlling stake in the special purpose vehicle.
At the peak of MSM's earnings in FY15, it accounted for 68.9% of FGV's pre-tax profit. in FY17, MSM only accounted for 0.5% of FGV's pre-tax earnings.
We expect MSM to swing into a net profit of RM151.1mil in FY18F vs. a net loss of RM32.6mil in FY17 due to a drop in the cost of raw sugar. Risk is the new sugar refinery in Tanjung Langsat, which is targeted for commissioning in 2HFY18. There is risk that MSM may not be able to find enough off-takers for the new sugar refinery, which has a production capacity of one million tonnes per year.
Maintain HOLD on MSM Malaysia with a fair value of RM4.30/share. MSM is 51%-owned by FGV. Koperasi Permodalan Felda holds another 15.3% of MSM Malaysia.
Source: AmInvest Research - 19 Mar 2018
NOW FELDA IS TAKING FGV PRIVATE AT RM1.30
ANYTHING AT RM1.30 OR BELOW LOOKS CHEAP INDEED
OR ANYTHING RM1.50 BELOW LOOKS CHEAP?
Best regards
Calvin Tan Research
Singapore
All Information Provided Here Should Be Treated For Informational Purposes Only. It Is Solely Reflecting Author's Personal Views And The Author Should Not Be Held Liable For Any Actions Taken In Reliance On Information Contained Herein