Zoomable Statistic:
Select the range in the chart you want to zoom in on.
Hi guys,
From the discovery of the 1st Oil Oozing Out from the Ground in Saudi Arabia the price of oil has been Very Very Very Cheap at about USD2.00 a barrel Until
Until?
Until see this
This conflict was also known as the Yom Kippur War. This was a conflict between Egypt, Syria and their backers versus Israel. The conflict was the continuation of a troubling historical pattern of conflict between Israel and the Arab world. Because the United States was a supporter of Israel, the Arab countries participated in an oil boycott of Canada, Japan, the Netherlands, the United Kingdom, and the United States.[10] This boycott later included Portugal, Rhodesia, and South Africa. This was one of the major causes of the 1973 energy crisis that occurred in the United States.[11] After the completion of the war, the price of oil increased drastically allowing Saudi Arabia to gain much wealth and power.[12]
UNDER PROVOCATION FROM USA IN YEAR 1973 OIL PRICES STARTED TO RISE DRAMATICALLY! WITH THAT SAUDI ARABIA GAINED MUCH WEALTH & POWER
TODAY USA & THE WEST IS DOING AN ECONOMIC WAR BY ESG ON PALM OIL:
THE ANSWER TO ESG BY INDONESIA IS SWIFT & CERTAIN
SEE
Indonesia planning to 'hit the brakes' on raw commodity exports, says Jokowi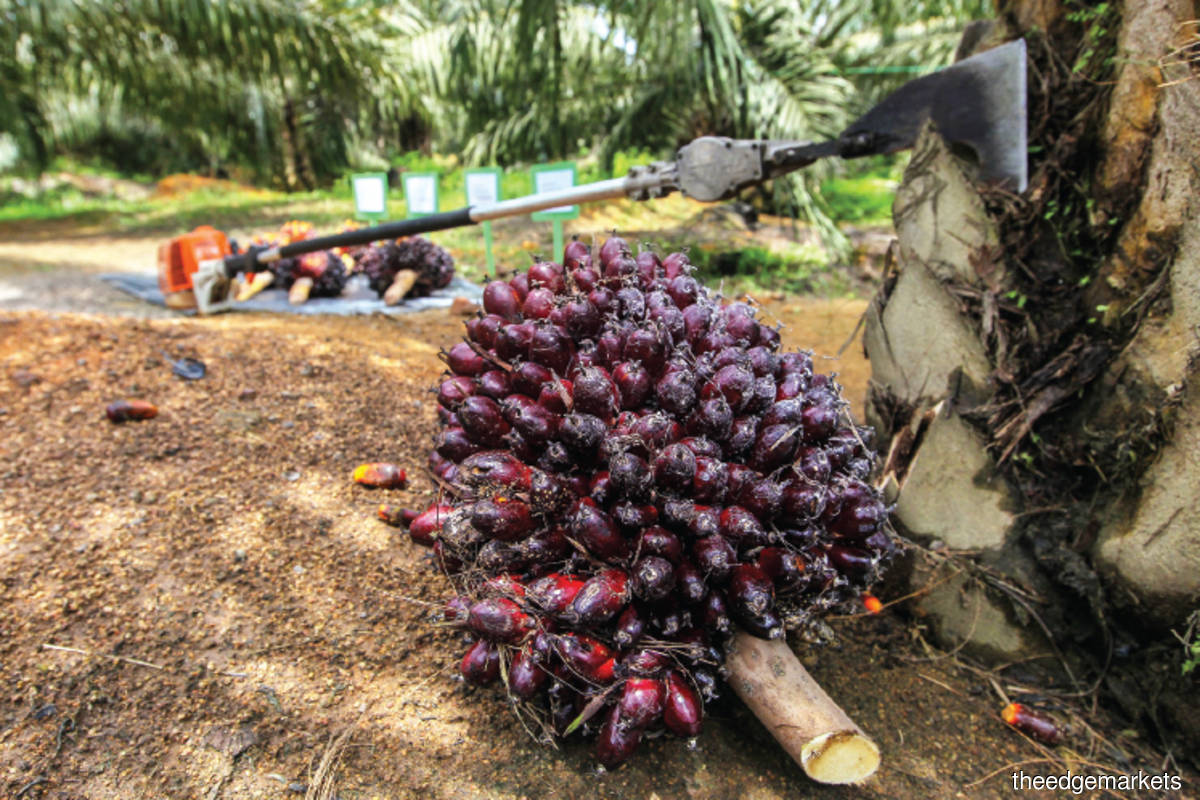 Stopping exports of unprocessed palm oil is being considered, Jokowi said, although he declined to provide an estimate of when such policy could be issued. (Photo by The Edge)
BEBATU, Indonesia (Oct 19): Indonesia is planning to "hit the brakes" on the export of all raw commodities in an effort to attract investment in onshore resource processing and create jobs, President Joko Widodo said on Tuesday.
Indonesia has banned a number of unprocessed ore exports including nickel, tin and copper in a bid to encourage downstream industries, including producing batteries for electric vehicles and aluminum industry, among others.
The government is currently conducting a study for the downstreaming of other commodities with a long-term goal of no longer selling just raw materials, the president, who is popularly known as Jokowi, said in an interview in the village of Bebatu on Borneo island
A new policy would hopefully emerge next year, he said.
"Don't be surprised. We had nickel (export ban) before. Next year, we may stop bauxite, the next year we may stop something else," Jokowi said.
Under current regulations, Indonesia will ban bauxite shipments in 2023.
"We really want to hit the brakes on exporting raw materials because there is no value addition and it does not create jobs," he said, adding that the policy would affect "all commodities".
Stopping exports of unprocessed palm oil is being considered, he said, although he declined to provide an estimate of when such policy could be issued.
He said last week that Indonesia would no longer export the crude form of the vegetable oil in future in favour of refined products such as cosmetics, margarine and biodiesel.
Indonesia is the world's biggest exporter of palm oil, thermal coal and tin. It is also major exporter of rubber and copper, among others.
Of 34 million tonnes of palm oil exports in 2020, 21% was in crude form.
YES!! THIS IS THE ANSWER TO ESG AGAINST PALM OIL!!
In the Far Future Palm Oil will Rise Up Strongly Like Crude Oil
More than that
Why?
The Answer is this:
Crude oil has only one use as an energy.
While Palm oil is both food & energy!!
1) PALM OIL IS EATEN AS COOKING OIL FOR ENERGY OF THE BODY
2) PALM OIL CONVERTED TO BIODISEL CAN POWERS CARS, LORRIES, TRAINS & AIR-PLANES
SO PALM OIL HAS WIDE APPLICATIONS IN ALL AREAS OF LIFE
AND WITH INDONESIA, MAIN COMPETITOR OF PALM OIL OUT, MALAYSIA WILL RISE UP AS WORLD NUMBER ONE EXPORTER
Warm Regards
Calvin Tan Research
Please buy or sell after doing your own due diligence or consult your remisier/ Fund Manager
Once Upon A Time
In the 1970s USA provoked Saudi Arabia the World largest Crude oil producer and suffered horrific inflation when oil price spiked up from USD2.00 a barrel to USD30, then USD50 & then USD 100
50 Years Later Again the Provocation of ESG on Palm Oil
Indonesia World Biggest Palm Oil exporter now plan to stop all raw palm oil export
This will cause very high food inflation
See
'Diesel vs doughnuts': new biofuel refineries squeeze US food industry
Energy companies tap into vegetable oil and fat supplies in pursuit of renewables targets