Govt to prioritise sustainable growth in upcoming Budget, says Guan Eng
Published 1 day ago on 10 September 2019
KUALA LUMPUR, Sept 10 ― The government will seek fiscal space to prioritise sustainable economic growth and will likely not introduce new tax measures in the upcoming 2020 Budget, says Finance Minister Lim Guan Eng.
"We will prioritise economic growth. Such expansionary measures may be necessary to provide some fiscal contingency, amidst an uncertain global economic environment if the trade dispute between China and the United States remains unresolved.
"Furthermore, to raise the confidence of the corporate sector and investment community, we do not foresee any new tax measures," he told a press conference after inaugurating Menara Prudential at the Tun Razak Exchange (TRX) here today.
He said discussions with various parties with regards to getting their inputs for the 2020 Budget were still ongoing and more details would be available during the tabling of the budget on Oct 11.
Lim said Malaysia advocates the continuation of a multi-lateral approach to achieve free and fair trade, productivity growth, embrace of the digital economy, and a rise in incomes to increase purchasing power and profitability of workers and businesses.
Meanwhile, Prudential today celebrated the opening of its corporate head office here, which would house all five of its businesses, namely Prudential Assurance Malaysia Bhd, Prudential BSN Takaful Bhd, Eastspring Investments Bhd, Eastspring Al-Wara' Investment Bhd and Prudential Services Asia.
The presence of Prudential in the TRX district will strengthen the positioning of Kuala Lumpur as a prime destination for international business and finance, including insurance.
Prudential Assurance Malaysia chief executive officer Gan Leong Hin said the company is proud to be the first company to move into the world-class TRX district.
"Malaysia is the longest operating market for Prudential in Asia, where we have been serving for more than 95 years, and our new office is a testament to our commitment to the community," he added. ― Bernama
Internet connectivity to be listed as utility - Gobind
Last update: 22/04/2019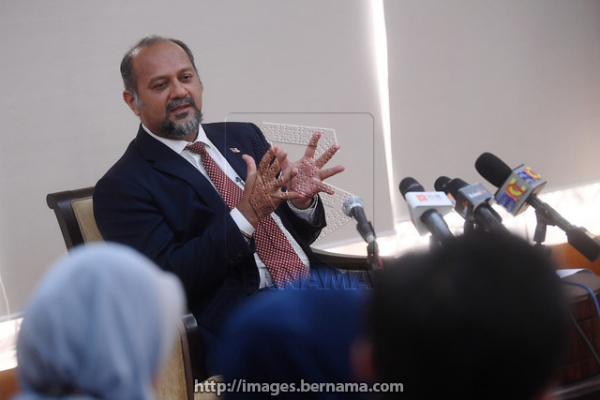 KUALA LUMPUR, April 22 (Bernama) -- The Communications and Multimedia Ministry is in the process of proposing that
Internet connectivity be listed as utility, just like water and electricity supplies.
Its minister Gobind Singh Deo said the proposal was among efforts to expand Internet connectivity access nationwide.
"I am in the process of proposing to the government, so that we can create a policy for Internet connectivity to become a utility, meaning it is given the same emphasis as water and electricity.
"We must accept the fact that the world will progress with the help of Internet, that's why the government is taking active and proactive steps in ensuring Internet access is available to all Malaysians, regardless of where they are.
"So, in the future, we need not view the construction as having connectivity problems, where we have to see the
fibre optic telco
contractors
, which will be time-consuming and costly...so we wish to overcome this problem, which will be an achievement for my ministry.
We understand and accept the importance of this connectivity,
" he said in a special interview in conjunction with the one-year anniversary of the Pakatan Harapan government administration at his office in Wisma Angkasapuri today.
According to Gobind, the proposal had been discussed with the Minister of Housing and Local Government (Zuraida Kamaruddin), and there were suggestions to
ensure all buildings in new development projects, be it residential or office,
be equipped with Internet access.
Meanwhile, Gobind also drew attention to efforts by his ministry to lower the Internet service charges so that everyone would have similar access to world technology with global-standard Internet speed and benefit various sectors, like agriculture, farming, medical, transport and e-commerce projects.
"In Malaysia, there is no official Internet speed limit for the people that we can say that we have successfully created a good infrastructure. Unofficially, we have 30 mps, and at the time, we set it, how do we reach that level and at the same time reduce the cost of broadband.
"So, when we introduce new prices under the
National Fiberisation and Connectivity Plan (NFCP)
, we'll see that the broadband price reducing. Prices have gone down in some cases, almost more than half. But on average among four telcos, it has come down almost at 50 percent," he said.
Among the main objectives of the
NFCP existence is to achieve a baseline o
f
98 percent broadband coverage in inhabited areas by 2023

, with a minimum broadband speed of 30 mbps so that 5G can be effectively

implemented nationwide, especially in remote areas.
Meanwhile, asked about reports his ministry received regarding Internet and speed, Gobind said although he had announced the ministry's objectives, it would still take time to be fully implemented.
"We already have the data and we have found ways to solve it. We need to take some time. Of course there are efforts being implemented in the improvement process. For example, for Streamyx, we have discussed with TM.
"It's just that it's not time yet to make an announcement. In two to three weeks' time, hopefully we can make an announcement and
resolve all these problems as fast as we can,
" he added.
Gobind said Internet and connectivity were among his main focus in ensuring that the infrastructure was enjoyed and utilised and that all the problems arising, such as cost and speed, had been resolved since he took over the ministry 11 months ago.
"The 5G (Fifth Generation) pioneer project is a part of that (objective). It is also linked with the expansion of NFCP, which is related to infrastructure and bringing about change.
"We must accept the fact that 10 to 20 years ago, that technology may have been key, but today the speed is slow, not reaching the level it should. Because of that, through NFCP, we focus on overcoming this problem and also
build a more effective network system,
" he said.
He stressed that the connectivity factor was crucial in giving the public access to various information and future success, apart from increasing knowledge in all fields related to their lives.
-- BERNAMA
Zuraida: Malaysia ready for

smart cities in five years
Housing and Local Government Minister Zuraida Kamaruddin is pictured at the 2019 Smart Cities Asia Conference and Exhibition in Kuala Lumpur September 11, 2019. — Picture by Firdaus Latif
KUALA LUMPUR, Sept 11 — It will be another five years before most of the country is ready for the "smart city" concept, Housing and Local Government Minister Zuraida Kamaruddin said today.
Speaking to reporters after launching the 2019 Smart Cities Asia Annual Conference and Exhibition, the minister said that the concept is currently being developed for the elite and high-income group instead of the masses.
At the same time, she said that before it can be introduced to some of Malaysia's more rural townships and B40 communities, residents there must be educated to ensure that they will take care of the high-technology facilities and gadgets provided for them.
"The masses must be ready, if not there will be vandalism and it will be a waste of money.
"The local authorities must make sure they are ready but most of them will start with the buildings, which are easier to control," said Zuraida, referring to the community.
When asked how she plans on educating these groups, she said that she believes once coverage becomes wider in Malaysia — especially in Kuala Lumpur and state capitals — and the public are exposed to it, taking care of the high-tech equipment will become natural.
She believes that the younger generation, especially those who are becoming more and more tech-savvy will have good habits inculcated into them as they will be more exposed to use of the gadgets.
"We should be ready in about another five years with widespread awareness and the younger generations with their phones, they would be more exposed to use these gadgets," she said.
Zuraida also said that smart city developers must work together with local authorities to fine tune its development in Malaysia to ensure a holistic development with long term strategic planning, instead of creating a piece-meal solution.
She pointed out that a piece-meal development will incur more costs in the long run and is wasteful and less efficient.
The federal minister also said that by working holistically with local councils, developers can help create more awareness and educate the local communities on smart cities and how they can take care of its facilities.
Gobind: Malaysia well-positioned in SE Asia for AI research and development
Author: savemalaysia | Publish date:
---
KUALA LUMPUR, Sept 12 — Malaysia, uniquely located at the heart of Southeast Asia, is well-positioned to be a leader of research in and development of the ethics in Artificial Intelligence (AI), Communications and Multimedia Minister Gobind Singh Deo said today.
"It is important that we build the necessary data and AI capabilities to ensure our industries, government and people are able to take advantage of the opportunities being offered," he said in his speech at the launch of the Next Big Tech Asia 2019 annual conference and exhibition on AI and Data here today.
Emphasising that Malaysia recognises the potential and opportunities that data and AI have to offer, Gobind said that according to a recent study by the International Data Corporation, the Big Data and analytics software market in Malaysia is forecast to reach RM595 million by 2021.
Gobind stressed that three key components — talent, trust and ethics — are required to develop a proper AI and data ecosystem.
"There is a consensus amongst governments, industry leaders and recruitment firms worldwide that there is a global shortage of AI talent. Malaysia, like the rest of the world, needs to develop deeper talent to further grow our AI ecosystem," he said.
He added that the growth of AI would require big data capabilities and what has been categorised as privacy preservation technologies which would be critical for the continued capitalisation of data.
"Increasingly, we need privacy solutions that can enable data integration across organisational boundaries. We also need more secure solutions, especially new methods of encrypting data on the public cloud," he added.
With the growing use of AI in our economy and workforce, Gobind believes that it is crucial to proactively address the national cyber security risks holistically and adequately.
He said it could be done through a national strategy, legislation and enforcement, innovation and industry development as well as raising the awareness of the citizens. — Bernama
Fiber is the key to unlocking 5G's full potential
Paul Ng/Corning Optical Communications
April 08, 2019
5G was the hot topic on everyone's lips at the Mobile World Congress 2019 in Barcelona, with conversations surrounding the great business potential the rollout of 5G can bring.
Viewed as the next evolution in mobile networks, 5G will enable broadband-like speeds on mobile devices, improved download and upload speeds, reduced latency, and allow a massive number of devices to connect to the network simultaneously.
Asia Pacific itself is set to become the world's largest 5G region by 2025, led by markets such as Australia, China, Japan and South Korea, according to the GSMA Mobile Economy Asia Pacific 2018 report. This does not come as a surprise since Asia Pacific has seen the biggest global mobile subscriber growth in recent years and still has room for growth. 5G networks are also expected to be launched in this region by end of 2019, covering 39% of the region's population by 2025.
Amidst the growing conversations on 5G and the opportunities the rollout will offer, it is also crucial to note that 5G will only be as powerful as the fiber networks that serve them. Integral to the success of 5G technology is an extensive optical fiber network, where all projected performance goals of 5G will ultimately depend on the strength of fiber connectivity.
We approach the next generation of mobile communications with the understanding that the underlying foundation of fiber networks is key to ushering the ultrafast speeds of 5G that can support new types of Internet of Things (IoT) applications, where the levels of bandwidth required far exceeds the capacity of 4G mobile networks.
Why 5G networks need fiber
According to industry body FTTH Council, Singapore currently ranks third in the world for fiber-to-the-home/building (FTTH/B) penetration rates worldwide, with China, South Korea, Hong Kong and Japan following respectively as of September 2018.
Moving forward, Singapore is set to play a pioneering role in the upcoming 5G era, with the government already showing support for greater technological innovation in 5G by lowering regulatory barriers for interested companies to explore the potential benefits and applications of 5G networks. This includes waived fees for 5G trials, public consultations and proposal of new regulations to support development and deployment of 5G in Singapore.
In order to achieve the full potential of 5G speeds, an underlying consideration is that networks need to be supported by an advanced fiber infrastructure. From the macrocells and small cells, to the data centers that deliver apps and services, it is crucial that fiber connects all non-wireless aspects of the network.
The key to building an ultrafast, 5G-ready network is to have greater density of fiber and bringing fiber as close as possible to the end user. More fiber allows for a greater number of cells, and ultimately more reliable bandwidth. This is integral to ushering the way for upcoming developments in AI, such as autonomous vehicles and virtual reality, which all require large amounts of bandwidth.
With the region's growing appetite for bandwidth-heavy and high-performance activities such as high definition video streaming and advanced gaming, it is more important than ever to ensure infrastructure is capable of meeting greater computing and connectivity needs. Robust fiber infrastructure is also key for industries looking to implement futuristic technologies such as IoT which require more advanced networks. By supporting the expansion of fiber coverage, consumers in the region are able to experience high performance capabilities enabled by 5G connectivity.
Easier and cost-effective expansion with network convergence
To date, fiber has been deployed extensively across the developed world, presenting an opportunity to rapidly expand 5G-ready networks starting with currently installed network infrastructure. By leveraging current infrastructure, network operators can quickly scale 5G-ready networks by deploying small cells at cabinets for FTTH connections. This approach, where multiple services such as fixed line broadband and wireless services share the same physical network infrastructure such as fiber or a street cabinet, is known as convergence.
Convergence brings several benefits to operators, including overall reduction in costs. There is a growing pressure on businesses and network operators to deliver greater efficiency and profitability without compromising on network quality. By utilizing the same fiber for different types of services, operators can maximize the use of existing assets and enjoy savings in installation and maintenance costs. Converged networks can also result in significantly less power usage compared to standard networks, which will be good news for operators facing pressures to lower their carbon footprint.
Disruption to communities will also be reduced: civil works will be minimized as the same street and pit would not need to be dug up repeatedly for different types of connections or upgrades. Convergence makes it easier for operators to quickly update the network or add new services using existing fiber, in a cost-effective and future-ready manner.
Flexibility and scalability of networks remain a top concern for operators due to the ever-growing need for reliable, secure connectivity. With current mobile demand and new wireless standards on the horizon, operators are constantly on the lookout for advanced fiber infrastructure and solutions that are future-ready and can be configured according to the changing needs of subscribers, fast.
Paul Ng is carrier networks manager for Southeast Asia at Corning Optical Communications and director of board at FTTH Council Asia-Pacific
3 STEP TO SUPER BULL RUN OF DIGITAL ECONOMY STOCKS LIKE NETX, OPCOM AND REDTONE
STEP NUMBER ONE
GOVT TRANSFER RM10.8 BILLIONS TO TELCOS ESPECIALLY TELEKOM
BULL START TO WAKE UP
STEP TWO
TELEKOM APPOINTS OPCOM, NETX, REDTONE AND OTHERS TO INSTALL FIBER NETWORKS INFRAR ALL OVER MALAYSIA
STOCKS START TO JUMP, LEAP AND CLAP CLAP HANDS!!
STEP THREE
OPCOM, NETX, REDTONE AND OTHERS START TO SHOW GOOD QUARTERLY RESULTS
STOCKS POWER UP AND LIMIT UP UP UP
NOTE: THE BULL RUN FOR OGSE STOCKS LIKE CARIMIN, UZMA, PENERGY AND DAYANG WAS DUE TO PETRONAS UPSTREAM CAPEX OF RM30 BILLIONS
Calvin enjoyed the earliest part of the bull run until maturity
NOW NEW BULL RUN STARTING FOR DIGITAL INFRAR PLAYERS LIKE NETX, OPCOM AND REDTONE AS NFCP RM21.6 BILLIONS FOR FIBERISATION WILL POWER THESE UP ONE BY ONE INTO MULTI YEARS HIGH
BEST REGARDS
Calvin Tan Research
Please buy or sell after doing your own due diligence
THE BEST BUY TODAY IS STILL NETX
WHY NETX AND NOT OTHERS?
ANSWER:
BECAUSE MANY STILL DO NOT UNDERSTAND IT AND AVOID IT
SO PRICE STILL VERY CHEAP AND GOT HUGE POTENTIAL TO GO UP BY A FAR BETTER MARGIN THAN OTHER POPULAR STOCKS
REMEMBER:
WHAT IS POPULAR IS NO LONGER CHEAP
WHAT IS MISUNDERSTOOD, OVERLOOKED, UNLOVED AND UNWANTED IS CHEAP
SO BETTER GO AND LOAD UP LAGGARD NETX WHILE STILL SO CHEAP
REMEMBER CALVIN'S FORTE IS TO CALL PEOPLE BUY WINNING STOCKS
JAKS AT 40 SEN
CARIMIN AT 39 SEN
NAIM AT 52 SEN
PENERGY AT 75 SEN
UZMA AT 62 SEN
LAFARGE CEMENT AT RM2.20
AT MARKET BOTTOM ONLY CALVIN ISSUES STRONG BUY CALLS
NEVER CHASE HOT HOT STOCKS AT MARKET PEAK
MARKET BOTTOM IS THE CORRECT TIME TO BUY WHEN THERE IS LINGERING DOUBT AND FEAR
MARKET PEAK IS THE TIME TO SELL AND NOT CHASE ANYMORE AS IT UPSIDE WILL BE LIMITED
SO THIS IS YOUR BEST TIME TO CASH OUT ALL HIGH FLYING OGSE STOCKS AND SWITCH INTO LAGGARD DIGITAL STOCKS LIKE NETX, OPCOM & REDTONE