Dear Friends, Investor and Traders
Today is the LORD'S DAY
So time to look at the Bible for Investment Advise
Today's message is taken from the Book of Psalm (Bible has 66 Books. Longest Book is Psalm which has 66 chapters)
Let's study Psalm Chapter One
Psalm 1
New American Standard Bible (NASB)
BOOK 1
The Righteous and the Wicked Contrasted.
1 How blessed is the man who does not walk in the counsel of the wicked,
Nor stand in the a]path of sinners,
Nor sit in the seat of scoffers!
2 But his delight is in the law of the Lord,
And in His law he meditates day and night.
3 He will be like a tree firmly planted by [b]streams of water,
Which yields its fruit in its season
And its [c]leaf does not wither;
And [d]in whatever he does, he prospers.
4 The wicked are not so,
But they are like chaff which the wind drives away.
5 Therefore the wicked will not stand in the judgment,
Nor sinners in the assembly of the righteous.
6 For the Lord e]knows the way of the righteous,
But the way of the wicked will perish.
King David who authored this Psalm lived in a land called Israel.
Much of the surrounding lands are semi arid. The landscape is desert like and there are low lying shrubs and sparse vegetation.
Turning his eyes he saw Tall Green Trees Near Rivers or Streams in the Desert. Then he got this idea
3 He will be like a tree firmly planted by b]streams of water,
Which yields its fruit in its season
And its c]leaf does not wither;
And d]in whatever he does, he prospers.
Standing out Tall and Majestic are Trees Found Near Rivers of Water.
This is the First Secret to Prosperity. And those who read God's Word and keep God's law are prosperous
So natural. River gives moisture which plants & trees need. In the desert where there is no water like the sahara desert nothing can grow
SO GROWING COMPANIES MUST HAVE EXPOSURE TO INCOME STREAMS
Like OGSE Stocks Bull Run in KLSE. When Petronas saw Brent Crude rebounded above USD60 it increased Capex for Upstream by Rm30 Billions. So OGSE stocks prospered
In year 2014 Shale Oil hammered Crude oil which fell to a low of USD27 per barrel. Those were bleak times indeed. Now no more for OGSE.
Now why only OGSE Stocks had a bull run and not others?
The answer is no water (No huge sudden income streams)
Not only that, there is a 2nd point
See
Which yields its fruit in its season
Ah! The secret is in the word "season"
What is the meaning of "season"?
For that see dictionary
season
UK
/ˈsiː.z

ə

n/
US
/ˈsiː.z

ə

n/
So there are four seasons. The time for happenings like sports day, monsoon period, mooncake festival, winter ski time, end of year school holiday where tourism increased, fly kite season when wind is strong etc etc
SO IS FRUIT BEARING = DIFFERENT TYPES OF TREES BRING FORTH FRUIT ACCORDING TO THEIR SEASONS
But some trees like the guava bears fruit all year round. Not for durian. Durian usually ripen in June to August when the weather is driest & hottest
So only once or twice a year durians are in season
Out of season forget about looking for durians
AHA!! THIS IS THE SECRET!
A COMPANY MUST BE LOCATED IN INDUSTRIES THAT GENERATE WEALTH & GROWTH (STREAMS OF WATER OR INCOME)
BUT THAT IS NOT ENOUGH
THERE MUST BE A TIME (ESPECIALLY CYCLICAL BUSINESS)
A TIME WHEN ITS SEASON HAS ARRIVED
ONLY THEN IT WILL BEAR FRUIT
THE WISE FARMER KNOWS ALL THE PLANTS (HUNDRED TYPES OR EVEN THOUSANDS) HE KNOWS WHICH ONE GOING TO BEAR FRUIT NEXT
HOW?
THE SECRET IS THE FLOWERS!!!
BEFORE THERE IS FRUIT THERE MUST BE FLOWERS
FLOWERS ATTRACT BEES TO POLLINATE IT
BLOOMING FLOWERS ALSO TELL THE FARMER THAT A GOOD HARVEST WILL BE SOON ON THE WAY
SO LOOK FOR SIGNS (SIGNS OF AN IMPENDING GOOD TIME)
NOW CALVIN ALREADY SEE SIGNS
THE SIGNS ARE ALL THERE (FLOWERS HAVE BLOOMED ON THESE)
IN AUGUST 28TH GOVT IMPLEMENTED NFCP RM21.6 BILLIONS FOR NATIONWIDE FIBERISATION
See
Internet connectivity to be listed as utility - Gobind
Last update: 22/04/2019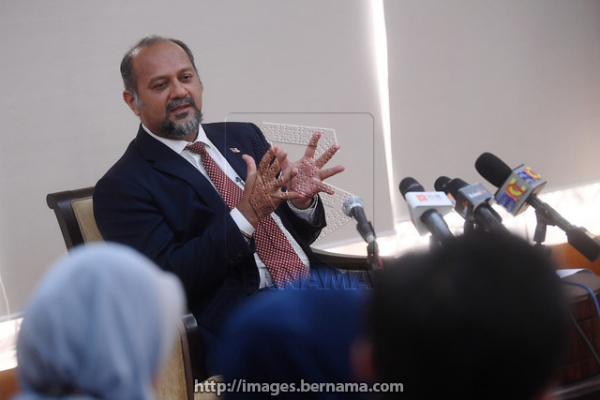 KUALA LUMPUR, April 22 (Bernama) -- The Communications and Multimedia Ministry is in the process of proposing that
Internet connectivity be listed as utility, just like water and electricity supplies.
Its minister Gobind Singh Deo said the proposal was among efforts to expand Internet connectivity access nationwide.
"I am in the process of proposing to the government, so that we can create a policy for Internet connectivity to become a utility, meaning it is given the same emphasis as water and electricity.
"We must accept the fact that the world will progress with the help of Internet, that's why the government is taking active and proactive steps in ensuring Internet access is available to all Malaysians, regardless of where they are.
"So, in the future, we need not view the construction as having connectivity problems, where we have to see the
fibre optic telco
contractors
, which will be time-consuming and costly...so we wish to overcome this problem, which will be an achievement for my ministry.
We understand and accept the importance of this connectivity,
" he said in a special interview in conjunction with the one-year anniversary of the Pakatan Harapan government administration at his office in Wisma Angkasapuri today.
According to Gobind, the proposal had been discussed with the Minister of Housing and Local Government (Zuraida Kamaruddin), and there were suggestions to
ensure all buildings in new development projects, be it residential or office,
be equipped with Internet access.
Meanwhile, Gobind also drew attention to efforts by his ministry to lower the Internet service charges so that everyone would have similar access to world technology with global-standard Internet speed and benefit various sectors, like agriculture, farming, medical, transport and e-commerce projects.
"In Malaysia, there is no official Internet speed limit for the people that we can say that we have successfully created a good infrastructure. Unofficially, we have 30 mps, and at the time, we set it, how do we reach that level and at the same time reduce the cost of broadband.
"So, when we introduce new prices under the
National Fiberisation and Connectivity Plan (NFCP)
, we'll see that the broadband price reducing. Prices have gone down in some cases, almost more than half. But on average among four telcos, it has come down almost at 50 percent," he said.
Among the main objectives of the
NFCP existence is to achieve a baseline o
f
98 percent broadband coverage in inhabited areas by 2023

, with a minimum broadband speed of 30 mbps so that 5G can be effectively

implemented nationwide, especially in remote areas.
Meanwhile, asked about reports his ministry received regarding Internet and speed, Gobind said although he had announced the ministry's objectives, it would still take time to be fully implemented.
"We already have the data and we have found ways to solve it. We need to take some time. Of course there are efforts being implemented in the improvement process. For example, for Streamyx, we have discussed with TM.
"It's just that it's not time yet to make an announcement. In two to three weeks' time, hopefully we can make an announcement and
resolve all these problems as fast as we can,
" he added.
Gobind said Internet and connectivity were among his main focus in ensuring that the infrastructure was enjoyed and utilised and that all the problems arising, such as cost and speed, had been resolved since he took over the ministry 11 months ago.
"The 5G (Fifth Generation) pioneer project is a part of that (objective). It is also linked with the expansion of NFCP, which is related to infrastructure and bringing about change.
"We must accept the fact that 10 to 20 years ago, that technology may have been key, but today the speed is slow, not reaching the level it should. Because of that, through NFCP, we focus on overcoming this problem and also
build a more effective network system,
" he said.
He stressed that the connectivity factor was crucial in giving the public access to various information and future success, apart from increasing knowledge in all fields related to their lives.
-- BERNAMA
SEE
KUALA LUMPUR, April 22 (Bernama) -- The Communications and Multimedia Ministry is in the process of proposing that Internet connectivity be listed as utility, just like water and electricity supplies.
As early as April 22, 2019 (Bernama) MCMC Minister Gobind Singh has mentioned about NFCP as a utility like water and electricity
EXACTLY 4 MONTHS 2 DAYS LATER OM AUGUST 28TH RM21.6 BILLIONS WAS OFFICIAL ANNOUNCED IN THE NEWSPAPERS
Govt approves RM21.6 billion plan that gives urban, rural folk equal access to Internet
KUALA LUMPUR: The Cabinet has approved the implementation of a RM21.6 billion national connectivity plan that gives both the urban and rural population equal access to the Internet in an effort to reduce the digital divide.
In announcing this today, Communications and Multimedia Minister Gobind Singh Deo said the National Fiberisation and Connectivity Plan (NFCP) would also benefit those who might otherwise not have the opportunity to participate in the digital economy, such as farmers, fishermen and the Orang Ali community.
Read again the date of announcement
By Bernama - August 28, 2019 @ 4:14pm
Among the 1st to know is NETX Insiders
Now ASIABIO Last Purchase was on August 23rd, 2019 (just 5 days from NFCP Announcement)
Did they get the News earlier?
Most probably.
Before news is officially announced they must have gone through consultation between Govt & all parties concerned. So since NETX had been doing business with TELEKOM it is also part of the coming program
HOW?
LET CALVIN EXPLAINS THE SEQUENCES
1) WHEN SOMEONE WANTS TO BUILD A HOUSE HE MUST FIRST DRAW OUT THE PLAN OF THE HOUSE. GET IT APPROVED BY AUTHORITY. THIS IS THE FIRST STEP (GOVT PLANNED NFCP)
Step Two
AFTER THAT GET A MAIN CONTRACTOR= IN THIS CASE IS TELEKOM MALAYSIA BHD (GIVEN RM10.8 BILLIONS FOR NFCP)
Step Three
TELEKOM engage Sub-contractors (Just as Main Con engages subcon to do infrar or piling, then Roofing, Wall plastering & painting, iron grilles, and wiring and finally internal furnishing
AT THE VERY FOUNDATION IS INFRAR JOB & AT THE VERY END IS FURNISHING AND TOUCH UP WITH CURTAINS AND OTHERS
NOW NETX BEING IN THE NETWORK DIGITAL INFRAR JOB IT WILL BE AMONG THE 1ST TO BE CONSULTED
NO WONDER THE DIRECTORS/INSIDERS WERE AMONG THE 1ST TO BUY
WHY?
BECAUSE GOVT OR TM ALREADY APPROACHED THEM LONG BEFORE NFCP IS OFFICIALLY ANNOUNCED
SEE
Gobind: Budget 2020 helps country realise digital transformation agenda