FORMER Prime Minister Datuk Seri Najib Tun Razak lashed out at unscrupulous quarters who accused him of "bidding farewell" to his mentor turned nemesis, ex-premier Tun Dr Mahathir Mohamad who is warded at the National Heart Institute (IJN).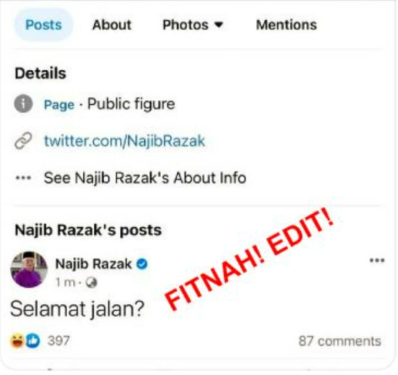 "Islam teaches its followers to pray for everyone's wellbeing. At this point, I'm sincerely praying for the seventh prime minister to get better and be blessed with good health.
"And this goes to all political leaders and their families who have poor health. We can differ in terms of politics but it's not in me to pray for someone to suffer," he said, in a Facebook post.
Yesterday, Mahathir was readmitted to the IJN for an undisclosed procedure right after he was discharged following an elective procedure.
It was said that the nonagenarian was in a critical situation. However, later in the evening, his daughter Marina Mahathir issued a statement saying that her father was stable now.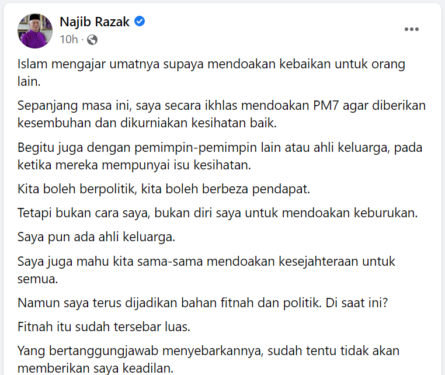 Spreading hate and enmity
While Najib had wished Mahathir a speedy recovery in a Facebook post, another post went viral allegedly showing the Pekan MP wishing the Langkawi MP "selamat jalan" (farewell).
Livid over the slander levelled against him, Najib said it was unbecoming for certain quarters to play dirty politics at this juncture when someone was fighting for his life.
He added that it was the modus operandi of those playing dirty politics to slander first, viral the post and then delete once the issue gets out of proportion.
"And after it goes viral, I will have little chance to prove my innocence. Why is it a must for you all to spread hate?
"Is this all you have? Spread hatred and enmity so as to win public support?" Najib queried. – Jan 23, 2022.