NOBODY can tell for sure if they are doing it from their own free will but three out of nine Top Glove Corp Bhd's independent non-executive directors (INEDs) have certainly performed some form of 'national service' to support the glove maker's share price as it headed south in recent times.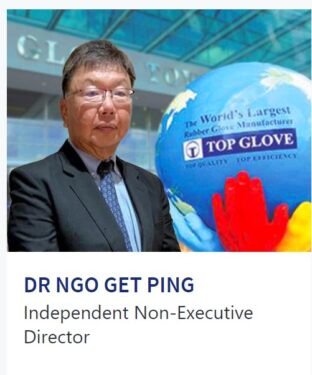 As expected, the quantity of shares they mopped up from the open market cannot match that of executive chairman Tan Sri Lim Wee Chai who has been incessantly on a buying spree for more than a month now (more so after the Employees Provident Fund [EPF] ceased to be Top Glove's substantial shareholder after disposing 9.78 million shares on May 23).
Whether this is a goodwill gesture on their part or otherwise, the three INEDs separately bought a total of 856,000 shares on June 16 outside the close period alongside Top Glove's two co-founders, Wee Chai and Lim Hooi Sin (who is also the company's executive director).
Senior INED Sharmila Sekarajasekaran forked out RM552.080 to purchase 536,000 shares while fellow INEDs Dr Norma Mansor bought 10,000 shares .(for RM9,900) and presumably Singapore-based Dr Ngo Get Ping spent S$99,200 (circa RM314,000) on 310,000 sha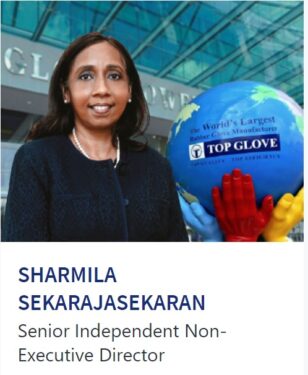 res.
Both Wee Chai and Hooi Sin had each acquired 1.2 million shares for RM1.17 mil on the same day.
Coincidentally, June 16 was the day the share price of the world largest glove maker ended the day's trading as a penny stock, dipping 3.5 sen or 3.46% to close at 97.5 sen with 86.79 million shares traded.
Well, Hooi Sin has begun to join hands with his co-founder to support Top Glove's share price beginning June 9 during the company's closed period when they each spent RM1.18 mil to purchase 1 million shares (or RM2.36 mil for 2 million shares).
On June 10, both gentlemen paid a further RM1.36 mil each to acquire 1.2 million shares (or RM2.72 mil for 2.4 million shares).
The joint purchase continued on June 13 when the duo pumped in another RM1.34 mil each to buy 1.3 million shares (or RM2.68 mil for 2.6 million shares).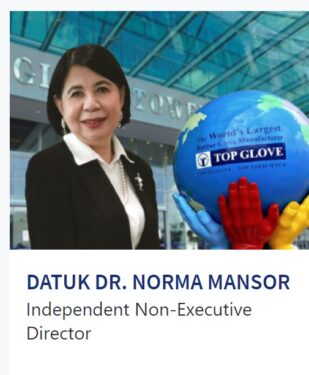 At the close of Friday's (June 17) trading, Top Glove was up 3.5 sen or 3.59% to RM1.01 with 69.93 million shares traded, thus valuing the counter at RM8.29 bil.
Nobody knows for sure if the acquisition of Top Glove shares by both its co-founders and INEDs has worked their magic but what is apparent is that the selling pressure has somehow shifted to fellow Big-Four counter Hartalega Holdings Bhd.
Haratelega's share price fell 4 sen or 1.4% to RM2.82 on Friday with 14.49 million shares traded which gave the glove maker a market capitalisation of RM9.7 bil. – June 19, 2022
https://focusmalaysia.my/independent-directors-join-the-fray-to-mop-up-top-gloves-shares/