A FORMER Parti Pribumi Bersatu Malaysia leader today panned Felda chairman Tan Sri Idris Jusoh for attempting to downplay reports that its subsidiary, FGV Holdings Bhd (FGV) had increased its board of directors (BOD) allowance to an exorbitant sum.
"If we go by the Felda chairman's views, those of us who are surprised over the huge perks for FGV's BOD misunderstood things and got confused.
"If Idris wants to cover up for FGV, at least be smart about it. Maybe the original Felda settlers may be convinced by his explanation but many of their children have become corporate leaders, bank manager and other skilled workforce who can tell the difference between a lie and the truth," A Kadir Jasin said in a Facebook post.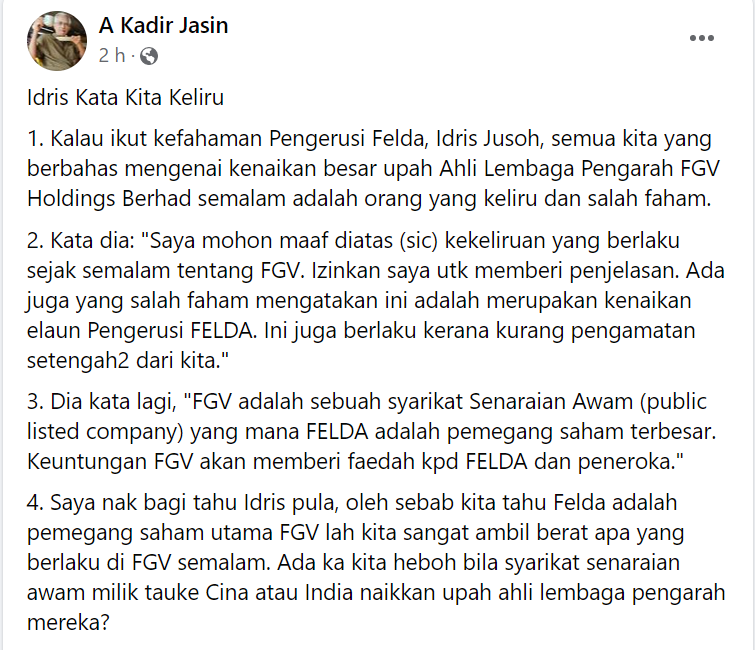 Amid spiralling cost of living affecting Malaysians, FGV, which is 80% owned by Felda, raised eyebrows when it agreed to increase its chairman's annual allowance from RM300,000 to RM480,000 at its annual general meeting on June 23.
The hike, will also see the six board directors' allowances increased from RM120,000 to RM150,000.
The decision was met with brickbats from many quarters, with Iskandar Puteri MP Lim Kit Siang urging Putrajaya to freeze all increases in salaries and allowances in Government-linked companies (GLCs) and Government-linked investment companies (GLICs) until the economy recovers.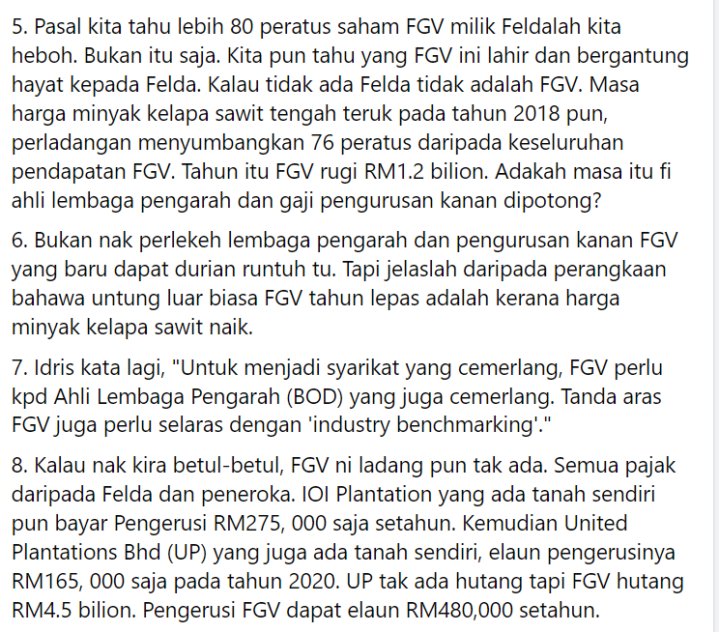 Yesterday, Idris defended the decision saying that with FGV recorded a profit of RM1.174 bil for its financial year ending 2021, given the soaring demand for commodities.
He also said that FGV had not revised the allowance enjoyed by its BOD since its listing 10 years ago.
"FGV is a public-listed company, where Felda is its majority shareholder. To become an exceptional company, FGV needs an exceptional BOD," Sinar Harian reported him as saying.
Touching on the matter, Kadir reminded Idris that the reason the decision drew condemnation from many quarters was because FGV is owned by Felda, which belongs to taxpayers.
FGV has massive debts
Countering Idris' argument on "exceptional BOD", the veteran newsman said that when palm oil prices dipped badly in 2018, the plantation sector contributed 76% of FGV profits.
"But FGV still lost RM1.2 bil back then. Did FGV's BOD's remuneration got slashed then? I'm not trying to undermine the BOD but the massive profits recorded last year was due to soaring palm oil prices caused by the war in Ukraine.
"If we really look at it, FGV doesn't even own a plantation land as it leases them from Felda and its settlers," he added.
Comparing notes, Kadir said that IOI Plantations which has its own land only pays its chairman an annual salary of RM275,000.
"United Plantations (UP) paid its chairman only RM165,000 in allowance, in 2020. Plus, UP doesn't have any debts but FGV has RM4.5 bil of it," he mentioned.
Kadir remarked: "If Idris is sincere, perhaps he should tell us how much dividend FGV has paid to Felda since the latter was 'forced' to give its assets for the former?
"And he should also tell us how much FGV has lost after its shares nosedived from its initial public offering price of RM4.55 to RM1.56 as of yesterday." – June 25, 2022