MALAYSIA'S award-winning budget carrier AirAsia needs to overhaul or upgrade its artificial intelligence platform after it has shown tendency for failing to detect Malaysian VVIPs (very, very important persons) from ordinary passengers.
It is either that or the airline is probably under the assumption that Malaysian VVIPs will shy away from flying with them after no absolute solution has been found with regard to refund for flight cancellations, which goes as far back as March 18 when Malaysia imposed its maiden lockdown or with the anomalies of its rampant flight re-scheduling/cancellations.
But a shocker came on Tuesday (June 21) when Dewan Rakyat's deputy speaker Datuk Mohd Rashid Hasnon lamented in a Twitter posting of his AirAsia flight being delayed not once, but twice.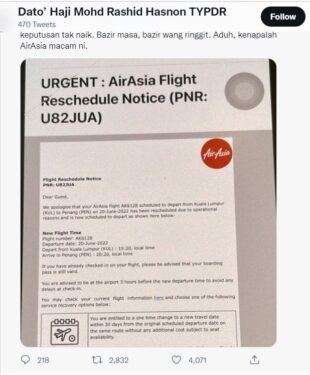 "At last, I decided not to board (at all). Wasting (my) time and money. Why must AirAsia be like this?" tweeted Rashid, who is also the Batu Pahat MP. His tweet has generated 2,569 retweets, 318 quote tweets and 4,134 likes at the time of writing.
"This issue here is that this is not the first time and many (passengers) have already been affected. The management should be held responsible".
First things first, kudos to Rashid for voicing a sentiment that has long been raised time and again by so many AirAsia passengers.
Hopefully, now that a VVIP passenger has aired his disgruntlement on social media, the Malaysian Aviation Commission (MAVCOM) will step forward to investigate the rampant recurrence of flight delays/cancellations with more rigour.
Below is how some ordinary passengers had reacted to Rashid's tweet:

atyra: (Flight delay for the ordinary people is OK; just take your time to settle it. (But) when a VVIP encounters similar flight delay, the entire AirAsia is called to settle the problem.)

danishriez: (Thank goodness that finally the deputy speaker also became a victim. He doesn't know that many ordinary people have been subject to such ordeal previously.)

jeff: (We make that choice to fly with them knowing that AA's arrangement is going be like that … we do have other choices.. Don't blame other party.)

Sauffie: Sir YB can 'whisper' to Minister @weekasiongmp or avoid boarding if possible. I'm a victim of JB-KK 0645H to 1210H, KK-JB 1945H to 1745H.

ツ: @CAAM (Civil Aviation Authority of Malaysia) must take actions on this air operators. The flight delays are getting out of hand. Explanation must be done to the passengers why a flight is delayed?

Purnama Mega Kurniawan: Please bring your proposal to Dewan Rakyat, Mr Deputy Speaker. – June 23, 2022