WITH PAS seemingly defying Selangor Ruler Sultan Sharafuddin Idris Shah decree in urging all quarters to not obstruct anyone from attending the Bon Odori festival, several netizens asked why the authorities are keeping mum on the matter.
Leading the criticism was former law minister Datuk Zaid Ibrahim.

(PAS has breached the Federal Constitution when they openly defied the Ruler, who is in charge of Islam and Malay customs. When is the Registrar of Societies (ROS) going to ban the party?)
Echoing Zaid's sentiments, user Adxitam added:

(Dear police, look at PAS. They are being insolent towards the Ruler. Please call them for questioning and don't show bravery on army veterans alone)
Netizen Thayanand jested:

(This is their loyalty to the Ruler. Don't forget that this is also DAP's fault because it was the latter that influenced them to challenge the monarch)
On Tuesday, Bernama reported Islamic Affairs Minister Idris Ahmad as reminding Muslims to stay away from the Japanese summer festival that has been in Malaysia for nearly 30 years, alleging that the celebration is "influenced by elements of other religions".
"Therefore, we are advising the Muslims not to participate in the festival or any other programmes that are against their faith and creed," he was reported as saying.
However, Sultan Sharafuddin intervened on the matter and instructed the Selangor Islamic Religious Department (JAIS) and the Shah Alam City Council (MBSA) to not obstruct anyone from attending it.
He also urged Idris, JAIS and MBSA to attend the festival so they could see for themselves that the event was cultural in nature.
However, both PAS youth and its ulama wing openly disagreed with the Ruler's decree and cast doubt over it.
"Muftis are respected for their knowledge in religion. They issue edicts based on views given by their respective state fatwa committees.
"They need not be told to go here and there to check whether something is permissible or not. Every state has its own religious committee, where it consists of those learned in the religion," said PAS youth chief Ahmad Fadhli Shaari.
Power getting over PAS' head
Yesterday, PAS ulama wing chief Ahmad Yahya urged Muslims not to attend Bon Odori festivals, adding it contained elements of Buddhist rituals.
"This principle is in line with several statements from muftis, religious scholars and the religious affairs minister (Idris Ahmad).
"Therefore, the claim that (Bon Odori) was strictly a cultural event does not have enough merit," Malaysiakini reported him as saying.
On that note, lawyer-activist Siti Kasim said that it was beyond any doubt that PAS just wants power and control over the people and their open defiance against the Ruler shows it.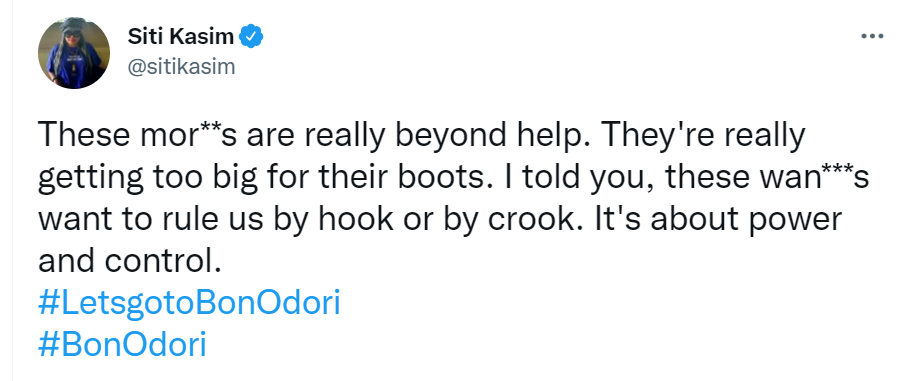 Netizen Calvin Lee remarked: "Will the police take action against PAS, disrespecting the Sultan as PAS is just a political party and the Sultan is the head of Islam in the state." – June 11, 2022