THE resignation of Malaysia's renowned 'iron lady' Tan Sri Rafidah Aziz as chairman of long-haul budget airline AirAsia X Bhd (AAX) after a stint of slightly more than one decade has set tongues wagging.
Not so much that she has outlasted her presence as she is known to possess the capability of 'last woman standing' as evident from the 78 year-old being the country's longest serving International Trade and Industry Minister by virtue of having clocked 21 years in that capacity from 1987 to 2008.
After all, Rafidah has proven her mettle as a 'no figure head' chairman during her tenure spanning 11 years and four months.
Recall that Rafidah was appointed as independent non-executive director and chairman of the board on March 31, 2011 (taking over the reins from AirAsia's co-founder Datuk Kamarudin Meranun) prior to being re-designated as a senior independent non-executive chairman upon listing of the company on July 10, 2013.
In a bourse filing, AAX said she was stepping down as she would soon have served the term allowed as an independent director.
"…. (She) would then need to comply with the change of status from independent board member to non-independent director and the other ensuing requirements," justified the sister airline to AirAsia in a Bursa Malaysia filing.
While AAX's rationale does hold water, Rafidah could have stayed on even in a non-independent capacity if she so wishes but knowing how 'tough a nut to crack" as she is, she must have her valid reasons to call it a day.
An industry observer shared that one likelihood could be Rafidah feeling "helpless" that she was unable to come to the aid of hundreds if not thousands of AAX passengers who "were left stranded un-refunded in a proper manner by the airline's management".
"As independent director, the refund issue would have been very challenging for her … she could have thought that she has failed in her duty even if nobody is blaming her," he told FocusM on condition of anonymity.
"Now perhaps, incoming independent non-executive director Tunku Mahmood Fawzy Tunku Muhiyiddin could be counted upon to resolve the long lasting woes."
Tunku Mahmood, 63, whose appointment comes into effect immediately is currently an independent director of AIA General Bhd, Hong Leong Asset Management Bhd and Deutsche Bank (Malaysia) Bhd.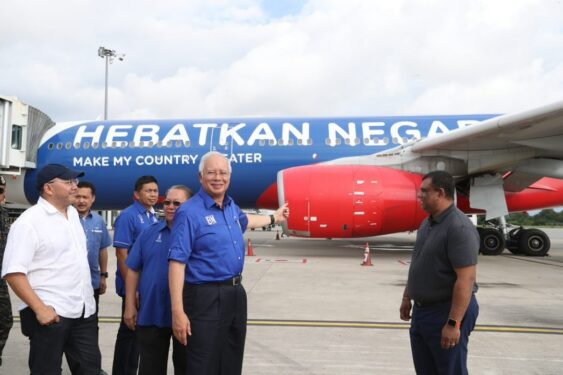 To recap, Rafidah had wanted to quit her chairmanship back in May 2018 over the 'blue plane' issue whereby she claimed that AirAsia co-founder Tan Sri Tony Fernandes made a "bad judgment" when he tried to "please and placate" former prime minister Datuk Seri Najib Razak in lieu of getting her to resign.
This led to Fernandes going as far as assigning an AAX plane to ferry Najib to Kota Kinabalu and back during the campaigning period of 14th general election (GE14).
Back then, Rafidah had aligned herself with the Pakatan Harapan coalition by backing two-time premier Tun Dr Mahathir Mohamad.
More recently, she has (again) been critical of the current Government which might put AirAsia X in a quandary when dealing with the relevant authorities.
At 11.18am, AAX was down 0.5 sen or 0.97% to 51 sen with 18,600 shares traded, thus valuing the airline at RM212 mil. – June 28, 2022