The History Behind the Hercules Hold:
The Pillars of Hercules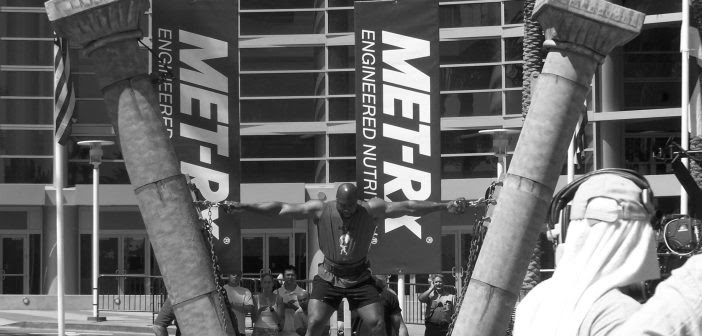 The mythological tale of the Pillars of Hercules, tells a story that Hercules himself, while having to cross a mountain on his way to the garden of the Hesperides, used his superhuman strength to smash a mountain into two pieces that was blocking his way, rather than climb over it. When these two pieces of the mountain fell into the sea, they formed what we know of today as; Gibraltar and Monte Hacho. Ever since this tale of what happened within the strait of Gibraltar was told, these two halves of the mountain have been known as the Pillars of Hercules.
Although in today's world we do not know of people with such superhuman strength as the described Greek gods. The tale of Hercules and how he managed to smash through a mountain creating to separate huge rocks, lives on. This is why when we see the strongmen performing these super extreme holds, this is the closest thing to superhuman strength as we know it. This is why holding up two huge concrete pillars is known as the Hercules hold. Although the strongmen of today hold these pillars from falling down, this is how we would imagine the incredible Hercules would have held these rock formations from falling down if they had been a danger.
About The Hercules Hold
The Hercules hold requires the strongman to hold up two giant pillars of 160kg each for as long as possible, this is a true test of power, grip strength and determination. It is often the athlete that can best overcome the mental torment of being pulled apart by two massive weights that prevails, over the man with the superior grip or strength but cannot handle the mental torment that is applied.
The two pillars (or weights in less extravagant setups) are attached to chains which have handles for the strongman to grip hold of. The strongman stands in the middle, in this case between the two pillars and takes hold of a handle in each hand before the pillars are released. Once the pillars are released they start vigorously pulling the strongman in opposite directions. The man who can hold onto the pillars for the longest time is declared the winner.
Training for the Hercules Hold: The Hercules Hold is very difficult to practice as it is not often that you find two falling pillars with chains and handles on for you to hold. Even creating a makeshift way to practice this can be very dangerous depending on what you are using to hold onto. Although there are not many things that can replicate this hold, the closest thing to being able to hold a good amount of weight in each arm in this way is within a gym. While using a gym, if you take the cable crossover machine (one with adjustable height), you can replicate this hold by putting the weight nice and high on both cables, at a height slightly below your shoulders. Find a few people within the gym or even your friends if they are available, who can help and pass you a handle in each hand to hold. Once you have hold of both handles and the heavy weight is trying to pull you apart. Stay central and try to hold this weight for as long as possible. Although in the Hercules hold, you see the strongman hold on until he cannot anymore, this is only recommended if the people who are assisting you can grab the cables for when you let go. If this is not possible try to train yourself and improve your grip strength, but do not suddenly drop the handles if you have heavy weight on. One reason for this is because if you are new to this strongman exercise, you may cause yourself injury and secondly, if you suddenly let go and weights start smashing together in the gym, you may lose your membership!
Current World Records
The official record for the Hercules Hold was set at the Giants Live Wembley in 2019 and is in the name of Mark Felix with a stunning time of 83.62 seconds. Since then Mark Felix has gone on to set a new world record in the Hercules Hold event at Giants live Manchester in 2019 with a time of 87.52 seconds. This is currently the highest time achieved within this event and is currently the world record.
| Date of Event: | Name of World Record Holder: | Location of Event: | Record Time: |
| --- | --- | --- | --- |
| Sep 7th 2019 | Mark Felix | Giants Live, Manchester Arena | 87.52 seconds |
| July 6th 2019 | Mark Felix | Giants Live, Wembley Arena | 83.62 seconds |
PALM OIL PRICES ARE ON THE UPTREND BULL RUN & CREATING NEW HIGHER PRICES.
| Month | Price | Change |
| --- | --- | --- |
| Jan 2021 | 3,997.72 | - |
| Feb 2021 | 4,126.35 | 3.22 % |
| Mar 2021 | 4,234.71 | 2.63 % |
| Apr 2021 | 4,446.03 | 4.99 % |
| May 2021 | 4,765.75 | 7.19 % |
========================================================================
WHY RM2.00 TARGET PRICE FOR TSH RESOURCES?
FOR 1 MAIN IMPORTANT REASON
REASON : NUMBER ONE
TSH / 9059
SEE_Research
TSH RESOURCES/ 9059

The top management , main director had been accumulating
with huge number of shares recently
Tan Aik Pen , recent bought more than
" many , MANY , MANY
TSH shares , "
sub total : 12,950 lots ( 1 lot = 1,000 shares )
sub total : 12,950 lots x average price RM 1.08
almost RM 14 millions
Pls note : after Kelvin Tan Aik Pen on his massive strong buys ,
EPF from seller ( 3 , 8 June 2021 ) turns buyer on 23 July 2021.
Remarks
REASON NUMBER 1 / ONE

REASON : NUMBER TWO actually please refer NUMBER 1
REASON NUMBER THREE actually please refer NUMBER 1
Let us endeavour to find the
REAL MOTIVES & OBJECTIVES OF THE TOP MANAGEMENT -
AT CHAIRMAN LEVEL -
KELVIN TAN AIK PEN ----
MASSIVE CONTINUOUS BUYING ORDERS
(FROM 24 MAY 2021 TO 23 JULY 2021 )
NOT MORE THAN 43 TRADING DAYS ON TSH SHARES .
THERE ARE NO INSIDERS FROM OTHER COMPANIES BUYING SO MASSIVE SHARES IN THEIR COMPANIES IN KLSE.
Please note at this current time the KLSE market conditions are not favourable
in view of political uncertainties and
also the economic conditions , coupled with the cases of Covid -19
are on the increase thus creating poor sentiments in KLSE.
Then , what are the critical motives & objectives ?
2 CRITICAL MOTIVES & OBJECTIVES ;
WELL HIDDEN BEHIND
( i ) to take TSH into private vehicle that means private company
(ii) ____________ ?
(ii) possibly certain "off market deals " to institutional syndicated funds
for their necessary actions.
now disclosing in this particular update post .
TSH/ TENACIOUS SAMSOM HERCULES ---- WILL BE FAST & FURIOUS ;
UP WHEN EVERYTHING IN THE POLITICAL DEBRIS SETTLED .
CAN YOU AFFORD TO MISS OUT
or
RATHER YOU WILL NOT WANT TO BE LEFT BEHIND
This clearly demonstrates how the institutional funds , including the national fund behaves , strangely , it may seem so.
===================================================================================
SPECIAL HIGHLIGHT
NEWS FLASH ON
RECENT ANNOUNCEMENT ON
LATEST FINANCIAL QUARTER REPORT
TSH
Previous Technical Analysis
Closed RM
1. 30 April 2021 1.07
2. 3 May 1.13
3. 4 May 1.15
4. 5 May 1.13
5. 6 May 1.13
6. 7 May 1.20
7. 10 May 1.24 / High 1.29
Earning Per Share Date Announced
(ii) 1.51 19 May 2021
(iii) 2.39 25 February 2021
(iv) 1.74 18 November 2020
==============================================================================
sub total : 8.52 x PER 18 = RM1.53
==============================================================================
Intrinsic value = RM1.53
Let us witness another explosive run up on the prices
in another 14 trading days , will it fast & furious to

RM 1.53 and above
===================================================================================

TSH (9059)
S
TSH RESOURCES BERHAD
Summary
Main Market : Plantation
High
1.080
Low
1.050
Volume
1,428,300
Volume (B/S)

84,500

/

173,900

Price Bid/Ask

1.070

/

1.080

52w
0.905 - 1.290
ROE
7.86
P/E
13
EPS
8.50
DPS
1.50
DY
1.39%
NTA
1.0820
P/B
1.00
RPS
64.81
PSR
2
Market Cap
1,492.3M
Shares (mil)
1,381.80
RSI(14)

Neutral

61.9
Stochastic(14)

Overbought

100.0
Average Volume
1,808,500
Relative Volume
0.8
Login for more stats
| EPS | DPS | NTA | Revenue | P/L | Quarter | Q Date | Financial Year | Announced | QoQ% | YoY% | Report |
| --- | --- | --- | --- | --- | --- | --- | --- | --- | --- | --- | --- |
| 2.88 | 0.000 | 1.0820 | 307.41m | 39.72m | 2 | 2021-06-30 | 31 Dec, 2021 | 2021-08-24 | 91.1% | 100.4% | View |
| 1.51 | 0.000 | 1.0644 | 198.72m | 20.78m | 1 | 2021-03-31 | 31 Dec, 2021 | 2021-05-19 | 36.9% | 822% | View |
| 2.39 | 1.500 | 1.0528 | 195.24m | 32.95m | 4 | 2020-12-31 | 31 Dec, 2020 | 2021-02-25 | 36.9% | 76.7% | View |
| 1.74 | 0.000 | 1.0032 | 194.17m | 24.07m | 3 | 2020-09-30 | 31 Dec, 2020 | 2020-11-18 | 21.4% | 298.9% | View |
| 1.44 | 0.000 | 1.0826 | 210.57m | 19.82m | 2 | 2020-06-30 | 31 Dec, 2020 | 2020-08-19 | 779.2% | 227.6% | View |
| 0.16 | 0.000 | 0.9166 | 257.39m | 2.25m | 1 | 2020-03-31 | 31 Dec, 2020 | 2020-05-21 | 87.8% | 83.4% | View |
| 1.33 | 1.000 | 1.0426 | 241.49m | 18.41m | 4 | 2019-12-31 | 31 Dec, 2019 | 2020-02-27 | 205.1% | 76.8% | View |
| 0.44 | 0.000 | 1.0302 | 203.81m | 6.03m | 3 | 2019-09-30 | 31 Dec, 2019 | 2019-11-25 | 0.3% | 25.7% | View |
| 0.44 | 0.000 | 1.0185 | 186.06m | 6.05m | 2 | 2019-06-30 | 31 Dec, 2019 | 2019-08-22 | 55.3% | 47.3% | View |
| 0.98 | 0.000 | 0.9976 | 207.59m | 13.54m | 1 | 2019-03-31 | 31 Dec, 2019 | 2019-05-27 | 34.8% | 24% | View |
| 0.73 | 1.000 | 0.9913 | 221.46m | 10.05m | 4 | 2018-12-31 | 31 Dec, 2018 | 2019-02-27 | 23.8% | 33.1% | View |
| 0.59 | 0.000 | 0.9134 | 225.76m | 8.12m | 3 | 2018-09-30 | 31 Dec, 2018 | 2018-11-29 | 97.7% | 70.1% | View |
| 0.30 | 0.000 | 0.9284 | 232.92m | 4.11m | 2 | 2018-06-30 | 31 Dec, 2018 | 2018-08-23 | 77% | 83.8% | View |
| 1.29 | 0.000 | 0.9390 | 226.14m | 17.83m | 1 | 2018-03-31 | 31 Dec, 2018 | 2018-05-23 | 17.6% | 39.1% | View |
| 1.57 | 2.000 | 1.0671 | 269.95m | 21.63m | 4 | 2017-12-31 | 31 Dec, 2017 | 2018-02-27 | 29.5% | 199.3% | View |
| 2.23 | 0.000 | 1.1124 | 256.82m | 30.69m | 3 | 2017-09-30 | 31 Dec, 2017 | 2017-11-22 | 10.8% | 176.8% | View |
| 2.04 | 0.000 | 1.1154 | 258.23m | 27.70m | 2 | 2017-06-30 | 31 Dec, 2017 | 2017-08-24 | 18.4% | 100.2% | View |
| 2.52 | 0.000 | 1.1380 | 288.50m | 33.95m | 1 | 2017-03-31 | 31 Dec, 2017 | 2017-05-24 | 246.8% | 38% | View |
| -1.72 | 2.000 | 1.1165 | 244.50m | -23.13m | 4 | 2016-12-31 | 31 Dec, 2016 | 2017-02-27 | 308.6% | 67.4% | View |
| 0.82 | 0.000 | 1.0655 | 213.26m | 11.09m | 3 | 2016-09-30 | 31 Dec, 2016 | 2016-11-30 | 19.9% | 123% | View |
| 1.03 | 0.000 | 1.0130 | 212.47m | 13.84m | 2 | 2016-06-30 | 31 Dec, 2016 | 2016-08-29 | 74.7% | 95.4% | View |
| 4.07 | 0.000 | 0.9825 | 202.28m | 54.72m | 1 | 2016-03-31 | 31 Dec, 2016 | 2016-05-25 | 185.1% | 750.1% | View |
| -4.78 | 2.000 | 1.0151 | 205.29m | -64.32m | 4 | 2015-12-31 | 31 Dec, 2015 | 2016-02-25 | 33.5% | 338.8% | View |
| -3.54 | 0.000 | 0.8951 | 181.38m | -48.19m | 3 | 2015-09-30 | 31 Dec, 2015 | 2015-11-18 | 780.4% | 298.5% | View |
| 0.53 | 0.000 | 0.8722 | 206.16m | 7.08m | 2 | 2015-06-30 | 31 Dec, 2015 | 2015-08-25 | 10% | 80% | View |
| 0.48 | 0.000 | 0.8896 | 206.03m | 6.44m | 1 | 2015-03-31 | 31 Dec, 2015 | 2015-05-20 | 52.9% | 87.7% | View |
| 1.02 | 2.500 | 0.8899 | 244.04m | 13.66m | 4 | 2014-12-31 | 31 Dec, 2014 | 2015-02-24 | 43.8% | 55.2% | View |
| 2.71 | 0.000 | 1.2679 | 246.95m | 24.28m | 3 | 2014-09-30 | 31 Dec, 2014 | 2014-11-18 | 31.4% | 70.8% | View |
| 3.94 | 0.000 | 1.2476 | 301.81m | 35.38m | 2 | 2014-06-30 | 31 Dec, 2014 | 2014-08-26 | 32.2% | 105.1% | View |
| 5.82 | 0.000 | 1.2854 | 287.12m | 52.17m | 1 | 2014-03-31 | 31 Dec, 2014 | 2014-05-22 | 59.8% | 161.9% | View |
| 3.64 | 3.500 | 1.1883 | 278.15m | 32.65m | 4 | 2013-12-31 | 31 Dec, 2013 | 2014-02-25 | 60.8% | 5.3% | View |
| 9.73 | 0.000 | 1.1816 | 219.36m | 83.27m | 3 | 2013-09-30 | 31 Dec, 2013 | 2013-11-19 | 382.7% | 409.4% | View |
| 2.07 | 0.000 | 1.1089 | 238.66m | 17.25m | 2 | 2013-06-30 | 31 Dec, 2013 | 2013-08-20 | 13.4% | 17.9% | View |
| 2.39 | 0.000 | 1.0861 | 280.06m | 19.93m | 1 | 2013-03-31 | 31 Dec, 2013 | 2013-05-20 | 34.9% | 32.4% | View |
| 3.67 | 0.000 | 1.0600 | 216.84m | 30.62m | 4 | 2012-12-31 | 31 Dec, 2012 | 2013-02-26 | 87.3% | 27.2% | View |
| 1.98 | 0.000 | 1.0386 | 260.48m | 16.35m | 3 | 2012-09-30 | 31 Dec, 2012 | 2012-11-20 | 11.8% | 52.6% | - |
| 1.79 | 0.000 | 1.0612 | 278.98m | 14.63m | 2 | 2012-06-30 | 31 Dec, 2012 | 2012-08-22 | 2.8% | 59.3% | - |
| 1.84 | 0.000 | 1.0389 | 227.38m | 15.05m | 1 | 2012-03-31 | 31 Dec, 2012 | 2012-05-21 | 42.4% | 37.2% | - |
| 3.20 | 3.500 | 1.0407 | 292.94m | 26.15m | 4 | 2011-12-31 | 31 Dec, 2011 | 2012-02-22 | 24.1% | 39.8% | - |
| 8.41 | 0.000 | 2.0558 | 273.15m | 34.47m | 3 | 2011-09-30 | 31 Dec, 2011 | 2011-11-17 | 4.2% | 88.9% | - |
| 8.77 | 0.000 | 2.0144 | 329.95m | 35.96m | 2 | 2011-06-30 | 31 Dec, 2011 | 2011-08-19 | 50.1% | 217.5% | - |
| 5.84 | 0.000 | 1.9036 | 252.60m | 23.95m | 1 | 2011-03-31 | 31 Dec, 2011 | 2011-05-18 | 45.8% | 112.7% | - |
| 10.80 | 0.000 | 1.8390 | 247.44m | 44.22m | 4 | 2010-12-31 | 31 Dec, 2010 | 2011-02-23 | 142.4% | 116% | - |
| 4.45 | 0.000 | 1.7768 | 214.27m | 18.24m | 3 | 2010-09-30 | 31 Dec, 2010 | 2010-11-18 | 61% | 22.2% | - |
| 2.77 | 0.000 | 1.8053 | 207.48m | 11.33m | 2 | 2010-06-30 | 31 Dec, 2010 | 2010-08-26 | 0.6% | 50.1% | - |
| 2.75 | 0.000 | 1.7883 | 240.48m | 11.26m | 1 | 2010-03-31 | 31 Dec, 2010 | 2010-05-19 | 49.7% | 97.4% | - |
| 5.47 | 5.000 | 1.7834 | 292.30m | 22.37m | 4 | 2009-12-31 | 31 Dec, 2009 | 2010-02-25 | 4.5% | 189.8% | - |
| 5.73 | 0.000 | 1.7209 | 203.67m | 23.43m | 3 | 2009-09-30 | 31 Dec, 2009 | 2009-11-05 | 3.2% | 4.8% | - |
| 5.55 | 0.000 | 1.6943 | 238.14m | 22.70m | 2 | 2009-06-30 | 31 Dec, 2009 | 2009-08-06 | 229.7% | 23.1% | - |
| -4.24 | 5.000 | 1.6534 | 176.20m | -17.50m | 4 | 2008-12-31 | 31 Dec, 2008 | 2009-02-25 | 171.1% | 161.4% | View |
| 5.96 | 0.000 | 1.6768 | 322.04m | 24.60m | 3 | 2008-09-30 | 31 Dec, 2008 | 2008-11-06 | 16.7% | 3.9% | View |
| 7.15 | 0.000 | 1.6840 | 338.86m | 29.54m | 2 | 2008-06-30 | 31 Dec, 2008 | 2008-08-07 | 4% | 28% | View |
| 7.45 | 0.000 | 1.6107 | 284.14m | 30.76m | 1 | 2008-03-31 | 31 Dec, 2008 | 2009-05-20 | 17.3% | 81.5% | View |
| 6.66 | 0.000 | 1.5307 | 255.98m | 26.22m | 4 | 2007-12-31 | 31 Dec, 2007 | 2008-02-15 | 6% | 19% | View |
| 6.38 | 0.000 | 1.4238 | 238.41m | 24.74m | 3 | 2007-09-30 | 31 Dec, 2007 | 2007-11-15 | 10.2% | 102.7% | View |
| 5.98 | 0.000 | 1.4291 | 211.06m | 22.44m | 2 | 2007-06-30 | 31 Dec, 2007 | 2007-08-16 | 31% | 65.8% | View |
| 4.64 | 0.000 | 1.2245 | 168.81m | 17.13m | 1 | 2007-03-31 | 31 Dec, 2007 | 2007-05-24 | 867.1% | 144.8% | View |
| 4.84 | 0.000 | 1.1623 | 181.92m | 1.77m | 4 | 2006-12-31 | 31 Dec, 2006 | 2007-03-05 | 85.5% | 2842.2% | View |
| 3.34 | 0.000 | 1.1184 | 152.01m | 12.23m | 3 | 2006-09-30 | 31 Dec, 2006 | 2006-11-24 | 9.8% | 37.2% | View |
| 3.58 | 0.000 | 1.0855 | 158.84m | 13.55m | 2 | 2006-06-30 | 31 Dec, 2006 | 2006-09-12 | 58.6% | 48.6% | View |
| 1.92 | 0.000 | 1.2800 | 148.84m | 8.54m | 1 | 2006-03-31 | 31 Dec, 2006 | 2006-06-01 | 477.7% | 31.2% | View |
| 0.45 | 5.000 | 1.2600 | 129.33m | 1.48m | 4 | 2005-12-31 | 31 Dec, 2005 | 2006-02-24 | 83.5% | 96.1% | View |
| 2.72 | 0.000 | 1.0100 | 138.71m | 8.96m | 3 | 2005-09-30 | 31 Dec, 2005 | 2005-11-25 | 2% | 27.2% | View |
| 3.01 | 0.000 | 1.0600 | 144.47m | 9.15m | 2 | 2005-06-30 | 31 Dec, 2005 | 2005-08-25 | 9.9% | 22.9% | View |
| 3.37 | 0.000 | 1.1000 | 133.41m | 10.15m | 1 | 2005-03-31 | 31 Dec, 2004 | 2005-05-27 | 73.6% | 3.3% | View |
| 39.15 | 0.000 | 3.1700 | 142.90m | 38.46m | 4 | 2004-12-31 | 31 Dec, 2004 | 2005-02-25 | 212.5% | 193.2% | View |
| 12.54 | 0.000 | 2.8100 | 113.55m | 12.30m | 3 | 2004-09-30 | 31 Dec, 2004 | 2004-11-29 | 3.8% | 34.1% | View |
| 12.13 | 0.000 | 2.7600 | 117.14m | 11.86m | 2 | 2004-06-30 | 31 Dec, 2004 | 2004-08-23 | 20.8% | 53.2% | View |
| 10.06 | 0.000 | 2.6400 | 106.24m | 9.82m | 1 | 2004-03-31 | 31 Dec, 2004 | 2004-05-24 | 23.6% | 13.5% | View |
| 14.13 | 0.000 | 2.6300 | 111.50m | 12.85m | 4 | 2003-12-31 | 31 Dec, 2003 | 2004-02-26 | 40% | 67.9% | View |
| 10.34 | 0.000 | 2.7400 | 111.65m | 9.18m | 3 | 2003-09-30 | 31 Dec, 2003 | 2003-11-20 | 18.6% | 65.7% | View |
| 8.72 | 0.000 | 2.6900 | 102.38m | 7.74m | 2 | 2003-06-30 | 31 Dec, 2003 | 2003-08-28 | 10.6% | 13.7% | View |
| 9.75 | 0.000 | 2.6000 | 76.10m | 8.65m | 1 | 2003-03-31 | 31 Dec, 2003 | 2003-05-29 | 11.9% | 47.3% | View |
| 8.71 | 0.000 | 2.5100 | 88.67m | 7.73m | 4 | 2002-12-31 | 31 Dec, 2002 | 2003-02-27 | 39.5% | 12.2% | View |
| 6.24 | 0.000 | 2.4200 | 63.60m | 5.54m | 3 | 2002-09-30 | 31 Dec 2002 | 2002-11-25 | 0% | 29.9% | View |